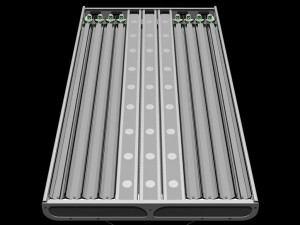 Sfiligoi continues to roll out the sweet, high end light fixtures with their new Genesis T5HO and LED hybrid fixture. This light features three rows of Cree-powered LED modules and eight T5HO bulbs on every model, regardless of length. The various lengths offered are typical of most light fixtures, as they come in 24″, 36″, 48″, and 60″ long models. The LED's are upgradable to RGB, and both the LED's and T5's are dimmable with the use of the Sfiligoi LINK. Pricing for the Genesis Hybrids starts at $1900 for the 24″ model, climbing to $3200 for the 60″ fixture.
Features:
LED – CREE 2 rows Cool White, 1 row Royal Blue
LED Dimmable via 0-10v DC Interface or PWM signal
T5 Dimmable option via 0-10v DC Interface
RGB LED upgrade available with use of Sfiligoi Link Controller
Forced ventilation with speed adjustable fans.