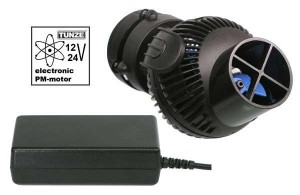 Tunze will be releasing a brand new Nanostream in tYhe near future. The Tunze 6095, as it will be called, will be roughly the same size as the 6055, but produce 2650gph of water flow making it their largest Nanostream ever. That is almost a 1200gph increase over the 6055 that is currently available. As far as features go, the new Tunze 6095 will have the typical collection of accessories like the vibration reducing Silence Clamps and magnet mount that are currently available on most Tunze pumps. Additionally, the 6095 will be controllable. In typical Tunze Nanostream fashion, the 6095 will use a mere 21watts of power when the flow rate is set to wide open.
A new feature being incorporated in this pump is a much wider flow pattern. The outlet is quite a bit larger on this pump when compared to other models, and it is designed to provide flow to a 4ft x 2.5ft area. With this pump, Tunze will be targeting cube-shaped and wide tank owners, which has become a much larger crowd in recent years. The price for the 6095 is expected to be north of $200, but quite a bit less than $300.
Image above of a Tunze 6055. Information above taken from Advanced Aquarist.