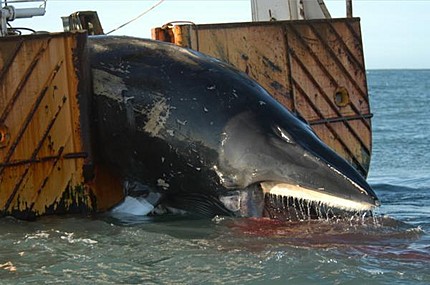 Officials in Japan have recently announced that at least two whales were discovered to contain radioactive cesium in their tissue. The officials conclude that the radiation is a result of the nuclear incidents that plagued Japan shortly after the massive earthquake and tsunami that devastated the region. The two radioactive whales were minke whales caught by fishermen conducting "small-type" whaling. Officials with the Japanese Fisheries Agency tested the whale meat and found that one had a reading of 31 becquerels per kilogram, and the other a reading of 24.3 becquerels per kilogram. The official who revealed the radiation levels went ton to say that the "safe" level for radiation is 500 becquerels, but concerned environmentalists and scientists are more worried about the continued affects of the radiation on the surrounding ecosystem.
To make matters worse, at least from a consumer standpoint, the radioactive whale meat was cleared and released into the general marketplace. This discovery, along with the release of the meat into the food industry and increased pressures to stop using whales for food will hopefully spur some people to abandon their old ways in lieu of a more sustainable food source, but we can only hope.
Story and images taken from Discovery News.