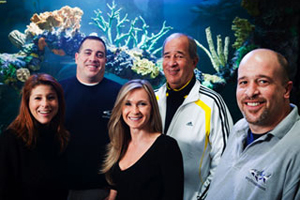 Animal Planet recently revealed a new television show focusing strictly on aquariums that they are adding to their lineup. Aptly called "Tanked", this new show focuses on the business side of the hobby by following Las Vegas-based acrylic aquarium building company Acrylic Tank Manufacturing (ATM). The series will initially consist of six episodes and will premiere on August 19 at 10 p.m. EST. During the short stint on tv, viewers will follow the aquarium building company through some massive and unique aquarium builds, including turning an old milk truck into a full blown saltwater aquarium.
A video preview of the "Tanked" tv show can be seen below.
Judging by the preview above, this new Animal Planet series looks like a cross between Orange County Choppers and aquarium building. The crew at ATM will be challenged with difficult builds, with tensions probably flaring at various points of each episode, with it all coming together at the end to have a happy customer and an awesome new saltwater aquarium. We hope the show puts a positive light on the aquarium industry and won't make a mockery of it.