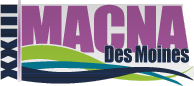 Continuing on with our pre-MACNA tips, we wanted to highlight the best ways to organize your trip to maximize the experience. As with any MACNA event, the 2011 conference in Des Moines will feature great speakers, tons of equipment and livestock vendors, lots of after show get-togethers, and plenty of city life to soak in over the three days you're away from home and enjoying nothing but aquarium-overload goodness. With all that is going on and the schedule being tight on some days, it's hard to pick out who you want to listen to, what vendors you just have to talk to first, and which famous hobbyist to "accidentally" bump into at the social gatherings. Some hobbyists go to all of the speakers and neglect the vendor halls, while a majority will get so wrapped up in ogling the corals that they will forget all about the speakers. Others get so pressed for time and just sort of collapse under the pressure of all of the shining LEDs and glowing corals.
To start with your event planning, you must first determine when you even show up. With airfare and gasoline being as expensive as they are, hobbyists will likely carpool and pick flights with stopovers to alleviate the costs. This means your travel schedule isn't exactly determined by you, but by the airline companies and the people bumming a ride or doing the driving. On top of that, getting away from work a day or two early may not be easy either, unless you inform your boss months in advance. Depending on all of these factors, your arrival at MACNA 2011 may not occur until well into the event, which starts Friday morning if you weren't aware.
Depending on your arrival time, you may have to miss a couple of the guest speakers and some of the great coral deals going on during the first day. To get back on track, drop the luggage off at the hotel and hit the vendor halls hard and as soon as possible. Squeeze in the important speeches and try to get as much done while at the same time pacing yourself so you can actually wake up the next day prepared to go and not be too sore to move. However, if you are fortunate to arrive at the event the day before it starts, you'll have plenty of time to soak in all of the speakers and visit all of the vendors, so take your time and methodically work up and down each aisle of the show.
The schedule of events doesn't stop at the close of the show each day, so it's important to also plan for nighttime activities. Most of the guest speakers go out with each other to enjoy a little night life, and you better believe aquarium hobbyists will find their way into the city at some point. So find some friends or complete strangers that share your aquarium passions and spend a little time socializing after hours. Also keep in mind that most event-goers will probably go out to celebrate the coming together of so many fish nerds a little more enthusiastically than others, which means the next morning might be a quiet one at the vendor booths of MACNA. This is the best time for one-on-ones with the vendors, as you will be able to hear the conversation and get all the information you seek on a particular product. Of course, this means you will probably have to cut your night short, otherwise you'll be one of the many zombie-like hobbyist aimlessly wandering the vendor halls.
If at any point during the show you find yourself looking for an exit, there are plenty of things to do on the outside. In lieu of all of the activities tied directly to MACNA that will consume most of your time, sometimes you'll need a break. A free trip to the Blank Park Zoo and a tour of the Central Campus marine biology program are being offered to attendees of the event. These are two great outlets to round out your animal-focused weekend, but if you want to just take a break from it all, there are obviously an unlimited number of other things to do. Just hit up the Google search bar for historical sites, shopping destinations, or masseurs to rub your blistered feet after days of walking around MACNA.