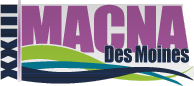 I'm going to miss this year's conference, but I wanted to offer a few tips for first-time attendee's getting ready to head out for the "big one".  Having attended a couple of these in the past, as well as countless other smaller conferences, I must say that having a game plan for your conference weekend will help you get the most out of the experience.  Now with that being said, every conference is a bit different and I can't profess to know every detail about this year's MACNA, but I have put together some general pointers which should apply to this and any other reef conference you'll attend. Well, I know you're probably on your way out the door to the airport so let me get right to it.
• Print out/Download the following prior to leaving for the conference.  All of these are available on MACNA's website.
Event Schedule – This is where you will find out the times and locations of the various speaker presentations, the opening and closing times of the exhibit's hall, as well as raffle details.  You'll want to mark on the schedule any events/speakers you plan on attending.  Note that you'll get a printed copy of the schedule with your attendee goodie bag, but I like having mine early to better plan things out.
Floor Plan of Exhibit's Hall – This will give you the layout of the exhibit's hall, the location of all exhibitor booths, the location of raffle items and concession areas.  Again, you'll probably have a copy of this in your goodie bag also.  Since your exhibit hall time will likely be fragmented, I would suggest marking off any booths you've already visited.
Speaker Profiles/Pictures – This will give you something to read on the plane and help you decide which speakers you'll go listen to. The pictures will help you not look clueless when you run into one of these people in the breakfast buffet line or at one of the exhibit booths.
Raffle Items – This year's items are all listed at the MACNA website making it easier to consume the hundred-some items in this year's raffle.
• Schedule out your time at the conference.  There is simply just too much to do and see and you will likely not be able to do it all, so planning things out will help you get to the things you are most interested in.  While this year's sequential scheduling of speakers will keep you from having to decide between two speakers that are scheduled at the same time, you still have to decide which speakers you'll skip in favor for a visit to the exhibit hall.  Keep your schedule flexible enough so that you can deal with event delays, cancellations, or changes.
• Looking for some rare livestock at the conference?  Then you'll want to make the visits to these booths a first day priority.  Some items are plentiful and you can delay making those purchases until later in the conference, but for those items in short supply you'll want to make that purchase early and have the vendor hold the item for you until Sunday.
• Freebies are everywhere but the really good stuff is in limited supply and is usually gone the first day of the conference.  Don't be shy about asking other attendees where they got that freebie they're boasting about in the lunch line.  Late Sunday you'll see some vendor's give some of their product displays away because they don't want to transport them back with them so be on the lookout for this also.  Do take the time to listen to the vendors as they tell you about their products and note that some will want contact information in exchange for the t-shirt.  Most vendors in the exhibit hall are geared-up to take plastic but for the few that don't, get familiar with the location of the ATM in the hotel.
• Play it smart with the raffle!  If there is something you really want to go home with then just buy the item rather than taking your chances on a raffle that may not pay out.  In other words don't put in $20 worth of tickets into the Hollywood Stunner Chalice raffle if you really want to go home with that frag.  Purchase what you really want and can afford rather than taking your chances on the raffle. Gamble in the raffle for those items you can live without or otherwise can't afford.  I've gone to conferences where I won so many things I was starting to get dirty looks from other participants but I've also gone to conferences where I dropped a couple of hundred dollars worth of raffle tickets only to win a 16 oz bottle of a calcium supplement.  The raffle is a fun gamble and you should not lose sight of that.
• Buying books or perhaps you already have a few in your reef library?  Then take the few minutes necessary to get the author to sign them.  Some author's will have signing tables setup but others are just hanging out in the hallway and happy to give you their signature.  Be smart about when you ask for a signature and don't rudely interrupt a conversation to pitch for a signature.
• Don't miss out on the social opportunities!  There are some planned-out ones like the Friday Reception and the Saturday Banquet but there will also be opportunities to hang out with a group exploring the town in the evening.  Make plans with your online buddies and get to know them outside of the virtual world.  And by all means, don't turn down an opportunity to hang with Bob Fenner on a late night watering hole excursion!
Please check out Brandon's blog entry on this very subject for even more good-to-know MACNA information.
I hope some of these will help you get the most out of your trip and take pleasure in knowing that I will be very jealous of you as I take in the conference from my home through the postings from the AquaNerd contributors attending this year.