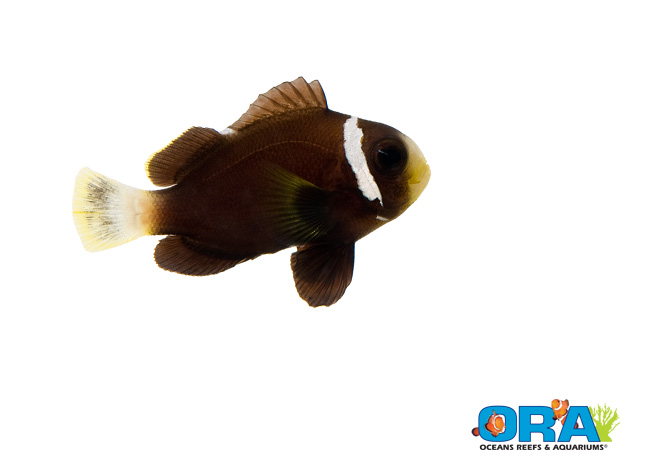 The marine ornamental aquaculture geniuses at ORA are at it again, with the latest offering of aquacultured clownfish species being the gorgeous ORA McCulloch's Clownfish (Amphiprion mccullochi). But their success with this new species is quite a bit different than what they're used to, as the clownfish presented several challenges. According to ORA, when the McCulloch's clownfish first popped up in 2008, they scooped up several individuals in the hopes that they would pair off and eventually start breeding. Unfortunately though, the extreme aggressive nature of these fish put those hopes well out of reach, forcing ORA to explore other options. Despite their behavior, one individual was able to successfully breed these fish and raise their offspring to adulthood.
Kevin Kohen, of LiveAquaria fame, and his staff at their Wisconsin facilities successfully bred these fish in 2009, becoming the first to do so here in the US. After two years of breeding these fish, LiveAquaria eventually teamed up with ORA in a collaborative effort to raise the McCulloch's clownfish and spread them throughout the aquarium hobby. But this again presented some issues. Transporting broodstock McCulloch's clownfish to ORA's Florida facility from Wisconsin was out of the question. The shipping stress alone could break the mating bonds between these fish, and we all know how stressful shipping livestock can be. So, LiveAquaria agreed to ship just the fertilized eggs. This strategy of course had its own set of issues, but after overcoming these immense logistic challenges, ORA had their first successful hatches of the McCulloch's clownfish ealier this year.
As part of their agreement, ORA has already sent a batch of the gorgeous clownfish back to LiveAquaria, which will eventually find their way into the Diver's Den section of their website. Additionally, the clownfish should be popping up on the ORA pricelist anytime now, so go bug your favorite fish store to order you some as soon as they become available.
To read about LiveAquaria's success story with these clownfish, please read the article we wrote way back in June 2009 entitled "LiveAquaria Breeding McCulloch's Clownfish".
We also wanted to thank Dustin from ORA for sending us the information.