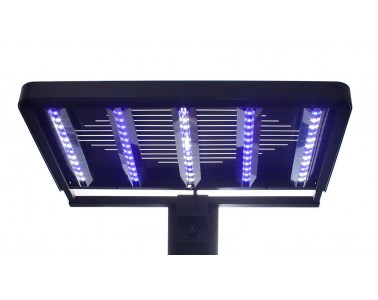 A couple of months ago, we first came across the brand new Panorama Pro LED fixture while cruising around the vendor hall at MACNA, and we're happy to say that Ecoxotic has made this new light available to the masses. At 24″ in length, this fixture comes powered by a mixture of five Panorama Pro LED modules that consist of three 12K White/445nm Blue and two 445nm Blue modules. With this out-of-the box combination, the color of the resulting light should be white with a very rich blue undertone that makes your coral colors pop. But if those colors aren't to your liking, the fixture is completely upgradeable. With the fixture's modular design, several more modules and multiple Stunner Strips can be incorporated into the layout, which also allows users to also customize the color spectrum being emitted. Heck, even the RGB Panorama Pro modules can be put into the fixture and we all know how many colors that thing is capable of rendering.
More information and a video can be seen below.
Besides the new array of LEDs, the Panorama Pro fixture also sports a black aluminum housing and an adjustable mounting bracket that can be locked in an "open" position to allow the aquarium keeper into the tank without having to wrestle with power cords and lights. The fixture has a total of four mounting options, which consists of a tank mount, stand mount, wall mount, and hanging kit. Each of the mounting options give aquarists more choices depending on the look they want, and each is sold separately. The features packaged with this new Panorama Pro fixture include two inline on/off switch with adjustable dimmer control, two power supplies, five polished reflectors, two 3-way splitters, and an EcoCham cleaning cloth.