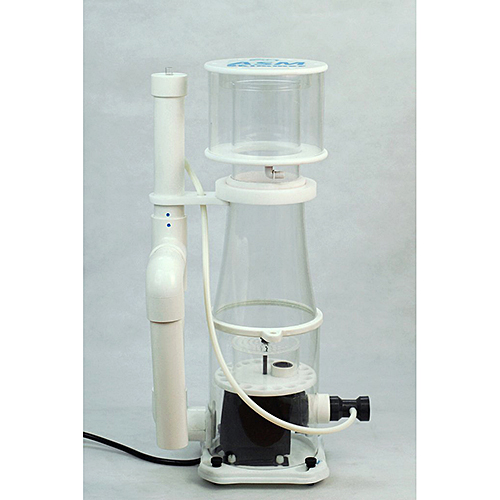 During the most recent MACNA, we stumbled across a brand new protein skimmer from All Seas Marine, a company whose products have essentially remain unchanged for at least a decade or more, and ritefully so. The ASM G skimmers have always been the go-to budget option for aquarium keepers. They worked fairly well, cost fractions of what other skimmers did, and could be easily modified if the situation called for it. But with the all new ASM Cone Skimmer, we hoped to see some change. We hoped it would be something entirely different than their flagship G-series line protein skimmers, and we weren't disappointed. The new line of skimmers are very different than the original line, but these differences come to aquarium keepers at a price.
The cone skimmers proved to be a completely new product that dropped the paper thin plastic of the older bodies and were beefed up with thicker acrylic, a better locking mechanism for the collection cup, rubber feet to reduce noise, and a bubble diffusing plate (basically all of the standard features on cone skimmers nowadays). The downside: the inexpensive prices we saw with the ASM G skimmers for so long have been tossed right out the window. With the new ASM Cone Skimmer finally hitting the shelves at Premium Aquatics, we get to see what kind of prices to expect. Being introduced with three different models, the starting price is $375 for the GC-3 cone skimmer rated at a 150-gallon capacity. While most might find this price to be very reasonable, it should be noted that the closest comparitive model from the original lineup, which is the ASM G1X and is also rated for 150-gallons, is over $125 cheaper than it's conincal brother. So the question that comes to mind immediately is whether or not the price jump is worth it.
Does a cone shape and a few extra bells and whistles justify a 50% price increase? For the smallest model, we're actually quite comfortable with the retail price. After all, every other skimmer on the market is around that price or more. But this price point, and those found on the two larger cone skimmers, takes ASM right out of the budget market and they are stepping away from what made them so popular in the first place. We understand that with a new product comes extra R&D costs and the new skimmer has a sturdier build quality with a few new features, but the pump hasn't changed. The needlewheel pump, which makes or breaks a good skimmer, is the same pumps ASM has been using all along. We're not saying the Sedra pumps are bad, but there are better options available, and those options use less energy, are more reliable, and perform better. Please understand that we aren't knocking ASM or its new cone skimmer, but we would  loved to have seen ASM stick to their roots a little more.
Skimmer Model: GC-3 In-sump (Internal) Protein Skimmer
Tank Size Capacity: Up to 150gal
Body Size: 6in (Diameter)
Height: 22in
Footprint: 6in x 12.5in
Pump Model: Sedra 3500 with Needle Wheel Impeller
Water Level: Minimum Level – 5in from bottom or same level as the Bubble Trap Plate
Maximum Level – 10.5in from the bottom or same level as the bottom of the Tee.
Price: $374.99
Skimmer Model: GC-9 In-sump (Internal) Protein Skimmer
Tank Size Capacity: Up to 400gal
Body Size: 8in (Diameter)
Height: 24in
Footprint: 8in x 15.5in
Pump Model: Sedra 9000 with Needle Wheel Impeller
Water Level: Minimum Level – 6in from bottom or same level as the Bubble Trap Plate
Maximum Level – 11in from the bottom or same level as the bottom of the Tee.
Price: $594.99
Skimmer Model: GC-15 In-sump (Internal) Protein Skimmer
Tank Size Capacity: Up to 500gal
Body Size: 10in (Diameter)
Height: 26in
Footprint: 12in x 18in
Pump Model: Sedra 15000 with Needle Wheel Impeller
Water Level: Minimum Level – 6in from bottom or same level as the Bubble Trap Plate
Maximum Level – 12in from the bottom or same level as the bottom of the Tee.
Price: $794.99
Link to the Premium Aquatics page comes to us from Reef Builders