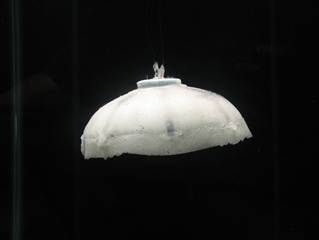 The robotics gurus at Virginia Tech and the University of Texas at Dallas have recently developed an amazing jellyfish-like machine that apparently never needs new batteries and doesn't have to sit on a charger all day long before being put into motion. By using the water around it, the jellyfish robot generates heat through a special chemical reaction between oxygen and hydrogen that takes place on a platinum coated surface. The RoboJelly, as it's aptly called, transfers said heat into its artificial muscles (made from memory alloy), causing them to contract and expel water downward just like a real jellyfish. After contracting, the muscles return to their original shape, causing the RoboJelly to drift lazily in the direction it's pointed.
Video below.
While this jellyfish may not appear more than a trinking thougt up by a bunch of science nerds, the technology that gets this robot moving will have a big impact on nautical travel. We're not sure what kind of scale is completely out of reach financially, but just imagine boats and other devices using this technology to propel themselves through the water. They would no longer need fossil fuels for propulsion, and it's a technology that could possibly even be adapted to land based vehicles with hydrogen and oxygen as fuel instead of gasoline or diesel.
The big downside to this technology is the fact that it needs a constant supply of hydgren and oxygen, which are both present in water but need a little energy to be broken apart from each other. Scientists speculate that solar-powered electrolysis stations could be placed at the water's surface and a RoboJelly or futuristic vessel could park at the station for a quick refueling.
Story via MSNBC