Current USA is adding a little more functionality to their TrueLumen LED strips with the help of a simple, yet very effective product. Their new inline dimmer knob plugs right into the connections between the strip and its power supply, and it allows users to adjust the brightness of the LEDs as well as turn them off. Each dimmer is rated for 12/24V at a 60watt maximum, and they're compatible with all of the products in the TrueLumen lineup. But that's not the only new accessory coming to the strip lights.
The TrueLumen Pro LED strips are also getting a simple mounting bracket that allows the strips to be individually seated on the rim of an aquarium. These adjustable docking mounts are simple to install, are made from aluminum, and place the strips approximately 1.5″ above the rim of the tank. We wish these were around during our TrueLumen Pro LED review, as they would have fit perfectly over the edges of our rimless aquarium, but we're glad they're coming out a little late instead of never.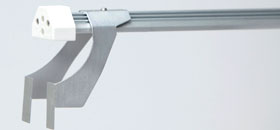 The Current USA TrueLumen dimmer switch isn't listed on the manufacturer's website, but we expect it to be available shortly. The mounting brackets, on the other hand, have been on the site for some time and we assume they're already available to purchase.