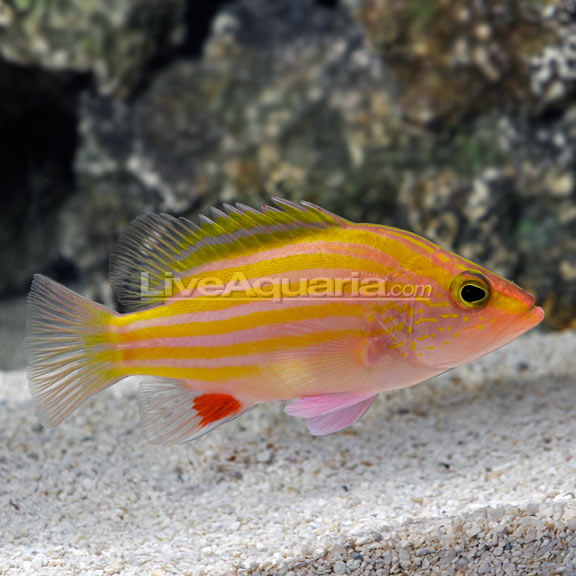 For decades, aquarium hobbyists scattered throughout Asia have been enjoying almost exclusive access to rare and expensive deepwater fish, even those coming from waters surrounding the US and the islands of the Caribbean. American hobbyists, on the other hand, haven't been as bold in their livestock selections, so there's never been much competition for those rare gems. But those trends are quickly changing, as US-based hobbyists are refining their tastes in rare fish and starting to see why certain species are so highly sought after. But this growing trend needs some sort of medium through which it can flourish. Thankfully, the guys at LiveAquaria have really stepped up their game. Already popular for having a robust online store of fish, corals, and inverts, the Wisconsin-based online retailer recently added another deepwater beauty to their What-You-See-is-What-You-Get (WYSIWYG) Diver's Den section. The rare gem is a deepwater Spanish Flag Grouper (Gonioplectrus hispanus), which isn't safe for a community tank but would be an amazing centerpiece for a fish only setup.
The particular individual up for grabs is approximately 4″ long and carries a price tag of $1600. It's vibrant coloration and elaborate markings really make it stand out, but that's not the only thing contributing to the beefy price tag. The Spanish Flag hails from the extremely deep waters surrounding Curacao. It can be found at depths up to 360 meters (or greater than 1000 feet), which requires a great deal of skill and extra equipment to get to. Heck, we wouldn't be surprised if this fish was submersible-caught, as so many fish from Curacao are.
This gorgeous Spanish Flag is just one of the many rare beauties brought in by the aquarium industry from Curacao. In fact, just a week ago we wrote about the Threeline Basslet (Lipogramma trilineatum) that was imported by B-Box Aquarium.