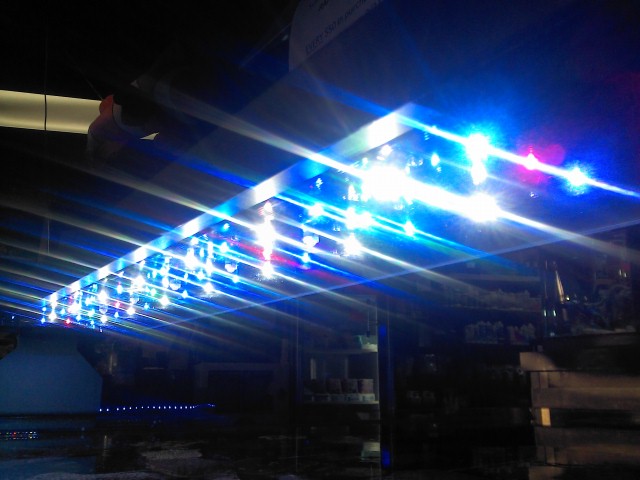 The LED aquarium lighting market is quite a volatile one, with companies releasing new products with such regularity and speed that it would make the Apple guys' heads spin. The latest product to grace our computer screens (and eventually our aquaria) is the F-series LED fixtures from Sunbrite. Officially becoming available later this month, the F-Series promises to not only have a healthy array of colors, but according to Sunbrite, these fixtures will be the first fully wi-fi integrated LED systems on the market. We've already seen some wireless capabilities in the Radion XR30w from EcoTech Marine and we've been teased with a future JBJ Unibody LED fixture with wireless functions, but the Sunbrite is first in the bunch to actually be commercially available with full controllability via devices like iPhones and other wireless tech.
For a full feature list, please continue below.
The Sunbrite F-series will come in the five most common sizes seen in aquarium lighting, with fixtures showing up in 24″, 36″, 48″, 60″ and 72″ lengths. We're honestly a little surprised to still see such long LED fixtures, especially since most manufacturers are going with the smaller module fixtures, but given the relatively affordable price of even the largest of the fixtures, we're not complaining. It will add a little to the shipping costs of the fixtures, but they will still be an affordable option.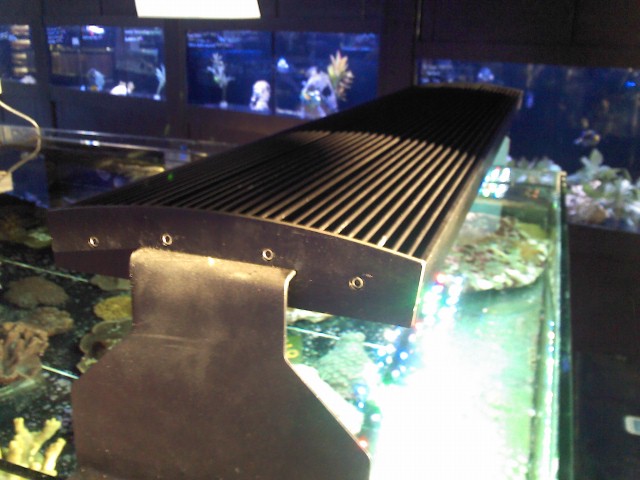 In terms of features, the F-series will sport the typical "bag-o-skittles" colors with the Red, 440nm Actinic, 470nm Actinic, Green, White, and UV LEDs. This proverbial rainbow is sourced from Cree, with the whites coming from the powerful 5watt Cree XPG. This will give hobbyists the PAR they need at the deepest parts of their aquariums, with Sunbrite reporting a reading of 200 at the bottom of a 24″ tall aquarium.
As for controllability, the diodes can be dimmed and put into a thunderstorm mode, which will likely dim a majority of the LEDs and flicker the white emitters to mimic lighting strikes. The driver box will include separate control knobs for each color, and the iPhone will unlock full control over all channels. This is obviously handy for adjusting the settings from across the room, but because it's all handled over wi-fi, you'll have to be within a certain distance of the fixture. For mounting options, the F-series will include legs, a hanging kit, or the ability to mounted into a hood. As far as pricing goes, the 24″ fixture starts at $750, with the remaining fixtures coming in at $900, $1000, $1200, and $1500 respectively.
Big thanks to fellow blogger Michael Rice, who runs the Marine-Engineers blog, for emailing us photos and details of the Sunbrite F-series lights.