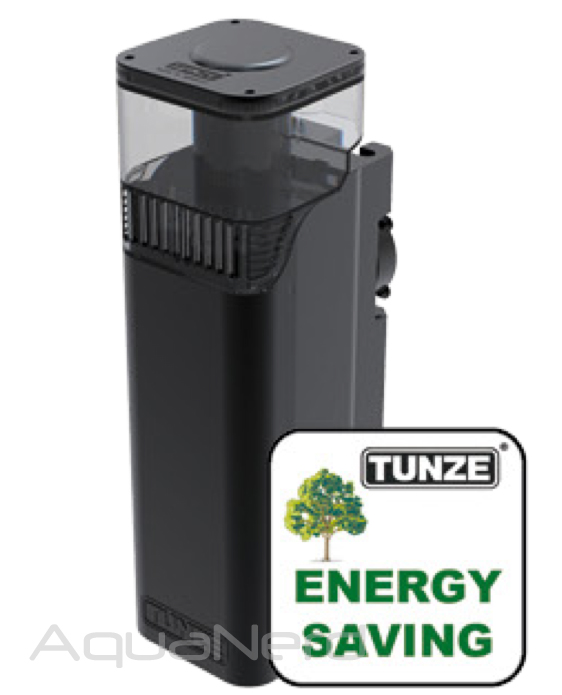 As part of their product revamping efforts, Tunze is releasing a brand new onto the nano aquarium market. But this skimmer won't be a direct replacement for the long standing and very popular 9002 Nano Skimmer. Instead, they are introducing an entirely new product called the Tunze Comline DOC Skimmer 9004, which will actually target aquariums slightly larger but still considered to be in the "nano aquarium" realm by many. This protein skimmer has updated, smooth stylings that make for a better looking unit than those of the past, but that's not all that's different. Instead, the entire skimmer has been redesigned fromm the ground up.
In terms of specifications, the 9004 is capable of handling saltwater aquariums between 15 and 65 gallons, though Tunze recommends an upper limit of 40 gallons for reef tanks. As far as measurements go, the overall footprint is 4.3″ x 3.5″, with a height of 12″. This makes for a tight fit in most all-in-one nano aquariums, though the skimmer will fit easily into certain larger models. To help the skimmer stick in those rear chambers, a magnet holder is provided and can work on glass or acrylic up to a half inch thick.
The first new feature we encounter is the surface skimmer. Instead of drawing water in from the bottom, an overflow is built into the skimmer that draws in water from the surface. This is obviously good news for aquarium keepers who do not have a reef ready aquarium, as the crud that accumulates at the surface will be removed. From there, the water is fed through a new Tunze Foamer pump, which also has a new air flow regulator and silencer, an obvious step up from what's seen in older models. Water is then forced up into an anti-overfoaming chamber and into the collection cup. Like the previous Nano Skimmer, water leaves the 9004 through the bottom and back into the aquarium.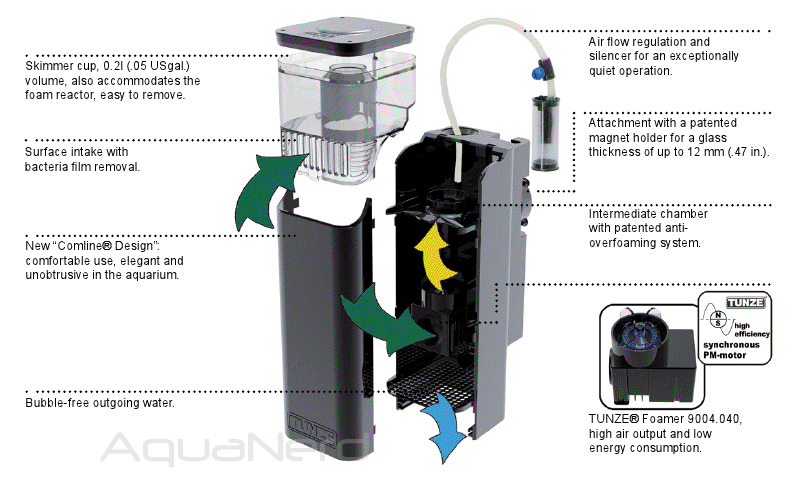 The Tunze Comline DOC Skimmer 9004 is going to make its world debut at the end of this week at Interzoo 2012, where I'm sure a little more information and images will surface. The skimmer will hit the marketplace at €107.45, which is approximately $177 US and about $25 more than the 9002's current price tag.