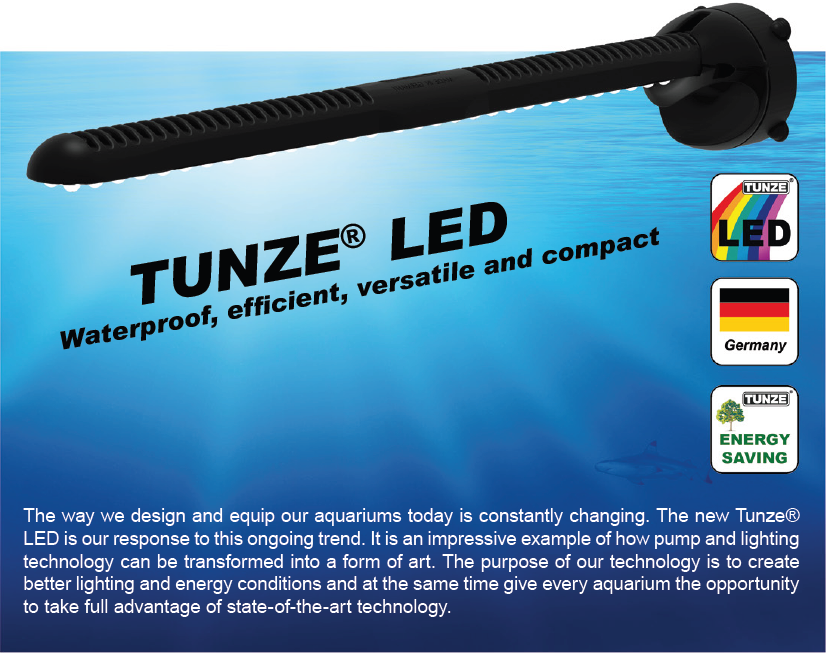 Tunze is getting in on the LED game with the release of their own fixture, which debuts this week at Interzoo. Simply called the Tunze LED, this light is unlike most you'll find on the market today. Instead of suspending delicate electrical equipment over a watery environment, Tunze's product goes a much different route. Using a waterproof housing and a magnet mount, this fixture is designed to be mounted close to the water's surface to increase the amount of light that is entering into the aquarium. For their LED choice, Tunze chose 62 energy efficient Elite-LEDs, which are crammed into the foot long fixtures in two narrow rows.

In terms of color options, three different models will be available. These include the Tunze LED marine, Tunze LED white, and Tunze LED blue. The white and blue models feature only one color option, either 6500K white or 470nm blue respectively, with the white fixture having only 42 LEDs that actually consume more power. The LED marine, on the other hand, offers up a blend of those two colors, with 42 white LEDs and 20 blues.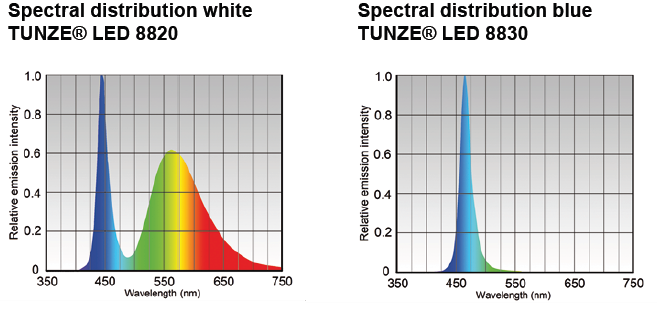 As far as mounting options go, the supplied magnet can orient the light either horizontally or perpendicularly at any point in the aquarium. For system flexibility, besides being able to mount anywhere, a brand new Tunze Multicontroller 7097 can control up to four separate Tunze LED fixtures, allowing users to fine tune the brightness to mimic natural daylight cycles.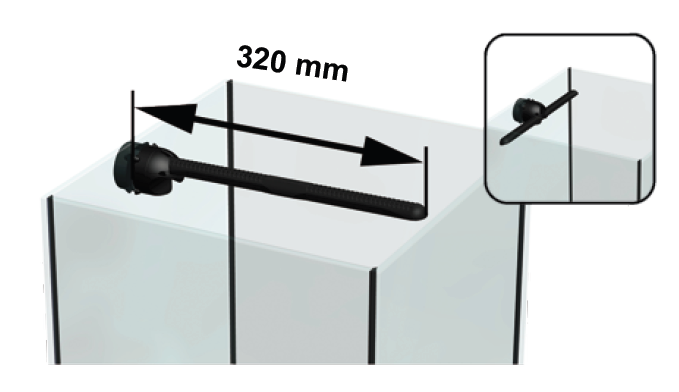 For pricing, each of the three models comes in at under €150, or less than $190 if the exchange rate hold steady, though we expect a slightly lower price point for the US market.
In closing, it should be noted that these fixtures are not deisnged to be the primary light source for large aquaria. Instead, they are aimed at small tanks where light doesn't have to penetrate deep water or as supplimental lighting for larger tanks. Hopefully this foray into the lighting realm will spur Tunze to make even more LED fixtures, especially some for larger aquariums.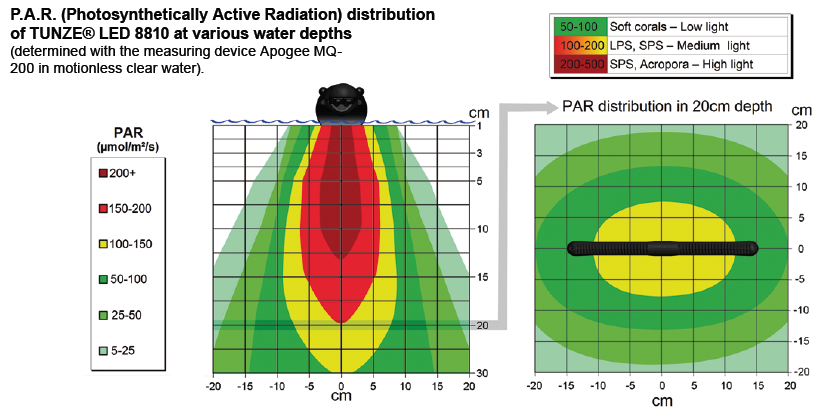 The advantages of the Tunze® LED:

Fully corrosion-resistant plastic construction, completely passively cooled without noisy or failure-prone fans.
Fully waterproof (IP 68) sealed with resin, and mountable close to the water surface in order to reduce the luminance loss.
Compact design which can be positioned at any point.
Highly flexible mounting with a magnet holder.
High degree of safety through 11V DC operation, cable length: 2.5 m (98.42 in.).
Low operating costs and a high efficiency through 62 energy-efficient Elite-LEDs, white LEDs with up to 130 lm/W.
Long service life due to a low operating temperature and perfect heat distribution.
Optimal light distribution, ideally suited as the main lighting source for a nano-aquarium or supplement lighting for larger aquariums.
Light color and intensity are controllable time-dependent with the new Tunze® Multicontroller 7097 (not included).
No problems in case of power failure: The safety connector permits a normal operation with the TUNZE® power supply unit, but in case of a power failure it will automatically switch over to a car battery or a DC source.
Thanks to its small housing dimensions, combinations of multiple lamps are easily possible. The light output is multiplied almost completely according to their number, if the lights are mounted in close proximity.
Dimensions:

Lamp without bracket: L 305mm x B 25mm x H 17mm (L 12.00 in. x W 0.98 in. x H 0.66 in.)
With vertical mounting with holder: L 320mm x B 50mm H 50mm (L 12.59 in. x W 1.96 in. x H 1.96 in.)
With parallel mounting with holder L 46mm x B 305mm x H 50mm (L 1.81 in. x W 12.00 in. x H 1.96 in.).