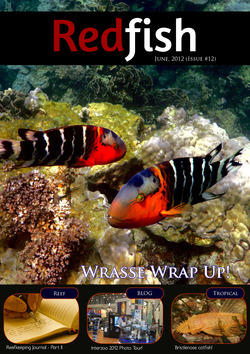 Redfish Magazine, the free online resource available to aquarists all over the globe, has just released their 12th issue and it's full of stuff that we, as marine aquarium hobbyists, can truly appreciate. Besides the usual gamut of articles on various fresh and salty topics that keep us busy, this issue is particularly interesting (to us anyways) because one author covers his behind the scenes tour of Segrest Farms. For those of you who don't know Segrest Farms, they are a large wholesale supplier of marine and freshwater aquarium livestock to local fish stores abroad. One of the stores really close to me uses them exclusively and their livestock always seems to be in great shape. Getting back on topic, we love seeing behind the scenes of the companies and large aquariums, and we recently covered Fish Tank Kings' tour of ORA, so naturally we gravitated toward this article as well.
According to the writeup by Mo Devlin, the huge facility has a very quick, three day turnover rate of their entire inventory. That's fish from over 5,600 freshwater aquariums and more than 60,000 gallons of saltwater tanks. Helping move those fish out the door is a team of folks handling daily phone calls, picking specific fish for clients, and placing livestock orders in color coded buckets that creep through the facility on a conveyor belt system that ends at the shipping department.
As Mo continued on with his exploration of Segrest, which was originally supposed to be a photoshoot of their livestock for promotional purposes, he noticed a pink tinge to the aquariums. Upon asking about this color, he was told that all of the tanks receive a dose of medicine once a week as a preventative against parasites and diseases. Additionally, the fish receive random precautionary skin and fin scrapes, along with on site necropsies, by the Segrest Farms aquaculture staff in order to identify potential pathogens in the system and treat them before any issues arise.
Besides covering the ordering process and issue management of the staff members at Segrest Farms, Mo also took tons of photos of livestock and spent lots of time chatting with various employees from all levels in the company. The article makes for a great read, in our opinions, and if you've got a little extra time, head on over to Redfish Magazine and download their latest issue.