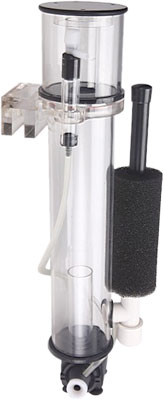 Last month, Innovative Marine teased their new SkimMate protein skimmer in a brief video, and while we eventually got some detailed technical data straight from the source, the images showing off all of the hardware associated with the tiny skimmer were lacking. That is, until yesterday when IM officially listed the SkimMate on their website. From the pictures, we can truly see what hardware this skimmer is packing.
Included in the long list of features is a pump located directly under the skimmer's body, which gives it the tiniest footprint possible. The pump draws in air through a noise reducing silencer with air adjustment valve, and pushes the resulting bubbles up through a narrow tube and into the small diameter body. The bubbles rise into the neck of the skimmer, depositing collected gunk into a small collection cup, and the clean water exits out of a riser tube that pours over a thick ring of foam padding that catches some of the bubbles before they make their way into the display aquarium. In a nutshell, the IM SkimMate has all of the features typically found in much larger skimmers, surely making it a great piece of equipment to use on a nano aquarium.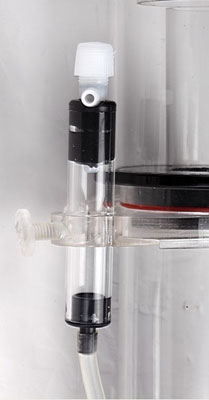 The SkimMate is being offered in two different models, the DeskTop designed for the Nuvo Nano16 and the MidSize skimmer which fits the larger Micro30 and Mini38. The skimmers fit discreetly into the rear filter chambers of the Nuvo aquariums and the integrated silencers allow for easy adjustment of the air intake, and thereby the water level in the skimmer, on the fly. The collection cup slides into the body of the skimmer and is secured with an O-ring, and an acrylic bracket holds the skimmer in place so that it doesn't wiggle around.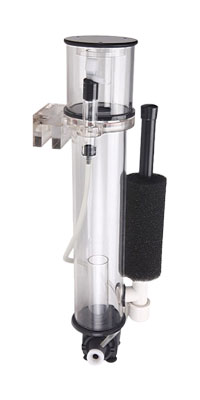 Features:
Offered in two convenient Models

Desktop – rated to 25 gallons
Midsize – rated to 65 gallons

Needle Wheel-Impeller creates dense dark SkimMate
Energy efficient 6.5 watt power consumption
Solid cell-cast acrylic construction
Easy turn knob for height adjustment
Noise reducing silencer with air adjustment valve
Water Outlet level control ( Mid-Size Model Only)
Small compact form factor (Designed for Nano16, Micro30, Mini38)
High performance in Small Footprint
Large volume collection cup with O-Ring
Top or Clamp Mount acrylic bracket for secure placement
DeskTop SkimMate
Pump Watts: 6.5w
Pump Flow Rate: 158 gph
Dimensions: 3.75″L x 2.60″W x 13.05″H
Tank Size Up To: 25 gallons
Designed for the Nano16
MidSize SkimMate
Pump Watts: 6.5w
Pump Flow Rate: 158 gph
Dimensions: 3.75″L x 3.25″W x 15.79″H
Tank Size Up To: 65 gallons
Designed for the Micro30 and Mini38