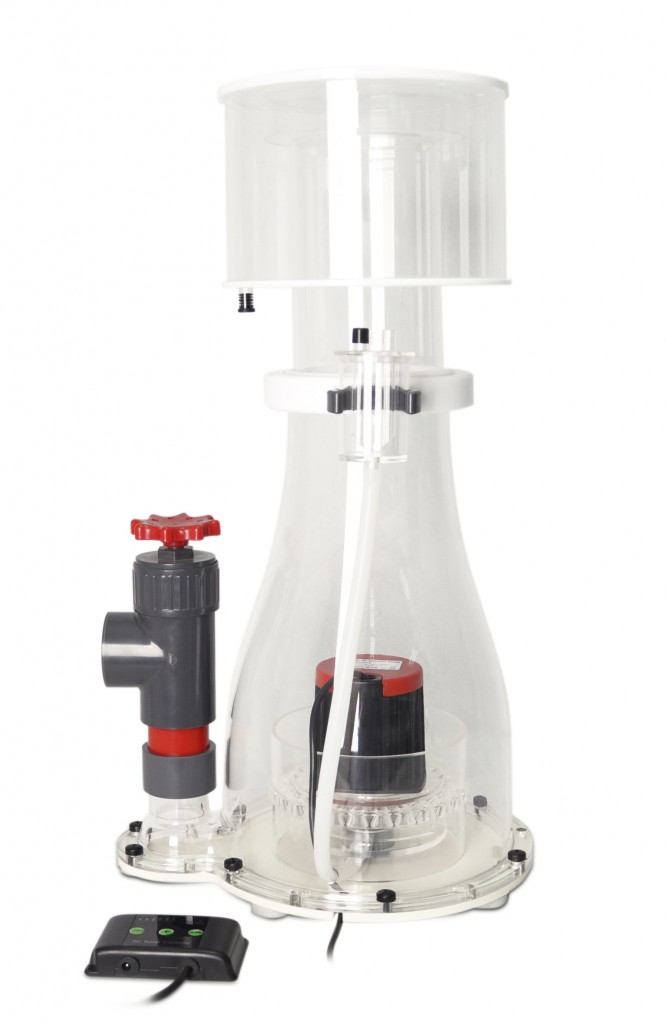 Reef Octopus is having a field day with the DC controllable pumps, as they are finding more and more ways to incorporate them into their product line. They recently dressed out a bunch of Diablo cone skimmers with the hot DC pump technology, and now they're applying it to another cone skimmer, but in a whole new way. The new Professional Open Volute protein skimmer, or "POV" for short, has a pump that sits up on one end, basically pointing downward, and it uses the base plate as the volute. Water is drawn from underneath the skimmer's body and gets chopped up into a fine, bubbly mixture that isn't shot in one particular direction, but gently flows up through the bubble diffusing plate and toward the collection cup.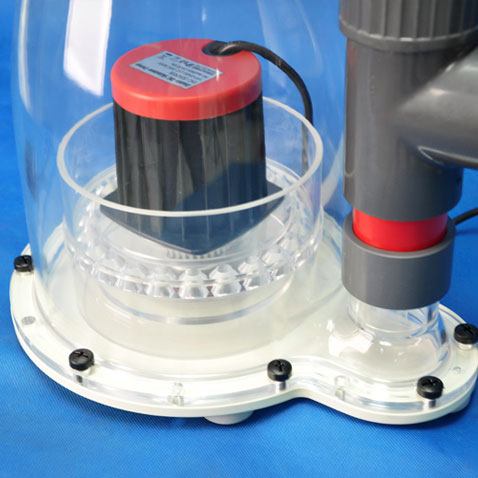 Reef Octopus has a total of three of these POV protein skimmer models, with the smallest having a DC-3500s pump, a 6″ diameter wine glass cone body and a tank rating of 200 gallons. The next two models move up to the DC-5500s controllable pump and larger bodies, with their tank ratings getting pushed to 400 and 500 gallons respectively.
It would appear that the gang at Reef Life Support Systems have really kicked off quite the trend. When they came out with their DC controllable pump protein skimmers earlier in the year, many other brands followed suite. And yes, RLSS came out with a volute-less protein skimmer that operates the same way this new POV skimmer does. Reef Octopus took the design and applied it to more models than RLSS, and implemented a different cone shape, though the similarities are far too similar to not notice.
And here's some information from CoralVue:
The Reef Octopus Professional Open Volute "POV" protein skimmers are the ultimate when it comes to space saver skimmers and will be available from CoralVue dealers in January of 2013. The soft start DC pinwheel pump provides both controllable water delivery and air induction to the protein skimmer. This allows users to select from six preset RPMs tune the skimmers performance on push button demand. The pump also features a unique 10 minute feed/service shutoff timer which restarts after 10 minutes. The unique feature of these POV skimmers is the pumps volute is integrated within the body of the skimmer to reduce the amount of space taken up by the skimmer pump.

– Ramp up pump speeds
– Turbulence Reducing Wine Glass Body
– Feed/Maintenance Timer
– Soft Start DC pump
– Disassemble

More details and performance specs to come.
Model Pump Body Size Footprint For Aquariums up to
POV-DC1 DC-3500s 6″ 11.7″ x 9.85″ x 21″ 200gal
POV-DC2 DC-5500s 8″ 12.5″ x 10.1″ x 23.7″ 400gal
POV-DC3 DC-5500s 9″ 13.6″ x 11.3″ x 25.2″ 500gal