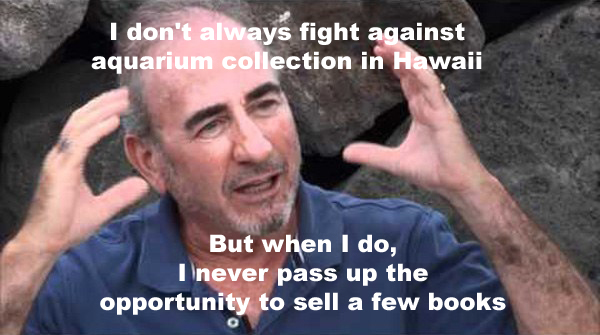 According to the Hawaiian news organization, The Garden Island, Robert Wintner has officially joined the Sea Shepherd Conservation Society Board of Directors. Better known by the nickname "Snorkel Bob", Wintner has contributed several anti-aquarium industry articles to the "marine conservation" organization in the past, and given his lengthy involvement with the group, his joining the board should come as no surprise. Also coming to no surprise is Wintner's amount of self promoting. In his own words while commenting on his new position with Sea Shepherd, Snorkel Bob claims that his involvement "connects the dots" and now allows the organization to be a global movement. We expect Snorkel Bob books sales to go up a little with this announcement, though we don't expect much else.
In reality, however, Robert Wintner has really done nothing more than self promote, especially with regard to his books. He is not a native Hawaiian, nor does he actually live there. This fact hasn't sat well with locals, which is a big reason why all of his efforts to close down the aquarium industry have been met with staunch opposition. He'll claim otherwise, stating that Hawaiians want to close down the industry. If that were the case, it would have happened given all of the opportunities that Wintner and other anti-aquarium activists have had.
In the story, Snorkel Bob doesn't waste the opportunity to blast the aquarium industry. He speaks of corruption and collusion in the Hawaiian government, and make sure to highlight a potential conflict of interest in the natural resources director who was apparently licensed aquarium collector at some point. Interestingly, Bob once again fails to discuss his own conflict of interest. Not only would he profit from the aquarium industry getting banned from Hawaii, but because he also has a major stake in the tourism industry, he has also led to a significant impact on the local marine environment. Ever year, millions of tourists enter into the oceans of Hawaii, some of which use Snorkel Bob gear or charter excursions through that company. And those tourists one by one lather up the sunscreen and trample the reefs, litter in the oceans, and contribute to a local curio trade that takes countless fish and invertebrates from the ocean every year.
Thanks Chris Brenes for sharing this on our Facebook Page.