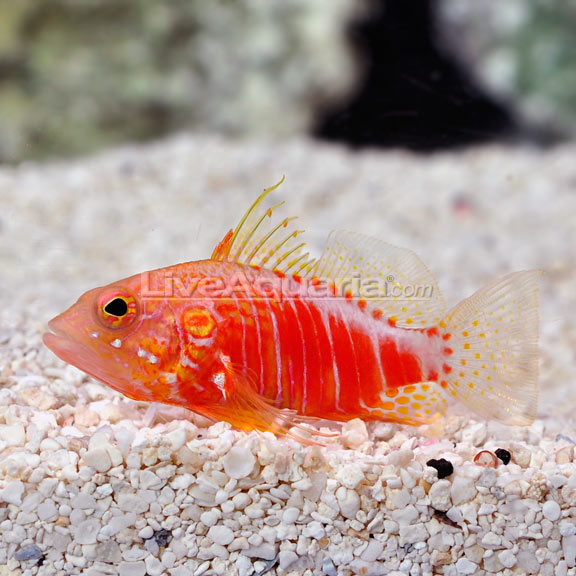 Who would have ever thought that the premiere importer of ultra rare fish in the US would be located in Wisconsin? Well, that is the case thanks to Kevin Kohen and his team at LiveAquaria, who continue to wow us with the top notch livestock that more often shows up in places like Japan than here. Their latest rarity is a fish we've seen before in the tanks of one of those Japanese importers, B-Box Aquarium, and it's the very colorful Pelicier's Perchlet (Plectranthias pelicieri). This fish is a relative of the geometric hawkfish, and neither is actually hawkfish but rather a type of anthias. The deepwater basslet has rarely makes an appearance in the aquarium trade, and when it does, the price is usually reflects its rarity.
The Pelicier's Perchlet is typically found at depths exceeding 100m and it has a known distribution in the Indian Ocean, in the waters around Japan, and as far east as Vanuatu. The individual imported by B-Box Aquarium last year was taken from New Caledonia and it looks a lot like the one Mr. Kohen has put up for sale in the Diver's Den.
The retail price on the Pelicier's Perchlet was set at $1000, but it was quickly snapped up by some lucky hobbyist. The fish was living in Kevin Kohen's office aquarium for a short while before being listed, so you know it got some really specialized attention.