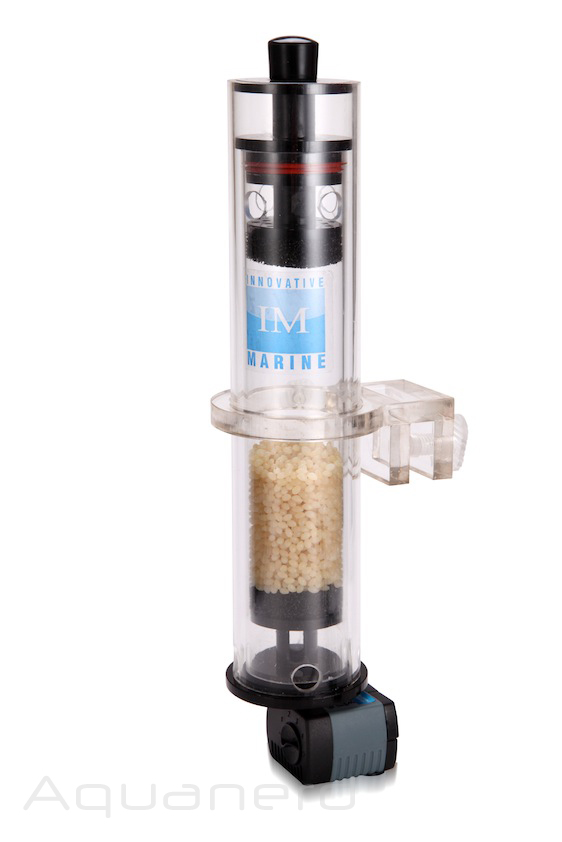 Innovative Marine has been working really hard over the last couple of years to distinguish themselves from the large number of competitors all vying for the nano aquarium market. Besides a robust line of sleek and stylish aquariums, they started making some nifty nano related gear, referred to as Auqa Gadgets, to service their tanks. The growing list of gadgets has been impressive and forward thinking, and their latest tool falls right in line with that idea. The Innovative Marine MiniMax is an all-in-one media reactor that fits into the rear chambers of the IM nano aquariums and is small enough to service other brands of tanks as well. It will be offered in two models, the Desktop and the Mid-Size, and it's dual chamber design lets hobbyists use just about any media of their choice, including biopellets, granular ferric oxide, activated carbon, or more.
To keep the MiniMax as simple and clean looking as possible, IM gave it a patent pending design that avoids the use of flexible tubing, ball valves, thumb screws, and what they refer to as unnecessary clutter. The body is made up of dual chambers, with one serving as a removable tube of sorts that allows hobbyists to easy replenish or change media when the time comes. Feeding water into the reactor is a small pump, located directly beneath everything that provides that crucial bottom to top water flow. Water fills the inner chamber and passively flows out of the top, which is where the flow control comes in. To slow things down or speed them up, simply rotate the inner chamber one way or another, altering how the drain holes of the inner chamber line up with those of the outer chamber.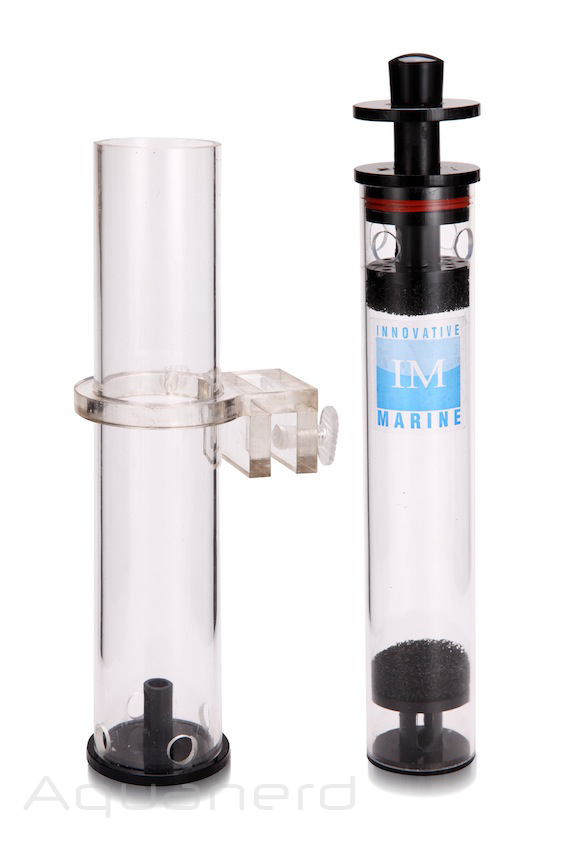 The layout of the IM MiniMax reactor is such that it gives it the tiniest footprint of any media reactor. This allows its use to be virtually limitless in the nano aquarium world, and for many of the IM Nuvo aquariums, it can be run in conjunction with the IM SkimMate protein skimmer. A media reactor and protein skimmer combo on a nano aquarium was almost unheard until now, and IM has done a great job of packing a ton of firepower into their product line.
As we mentioned before, the IM MiniMax will be offered in two different sizes to service to different size ranges of the Nuvo aquariums. The smaller of the two reactors, called the Desktop MiniMax, has the smallest footprint at 2″ x 2.3″ x 11.4″ and will retail for $99. The Mid-Size reactor will retail for $129 and is designed to operate on the larger aquarium models in the IM lineup.
To sum it all up, here's a list of all of the Innovative Marine MiniMax features:
Innovative Marine MiniMax All-In-One Media Reactor

The MiniMax is the All-In-One reactor for All-In-One Aquariums

Responsive Flow Control – Unique dual chamber design, allows for quick and responsive flow control within seconds with a simple turn of knob without the need for ball valves and inlet/outlet pipes
Efficiency – Utilizes upward flow pattern that requires less flow and lower energy consumption (Desktop Model – requires a mere 2.5 watts)
Eliminate Messy Maintenance– Internal chamber acts as a removable cartridge that simply slides out of outer chamber and automatically drains water out without the need for tools and time consuming thumb screws to unfasten.
Nano Size – We produced the smallest Nano Reactor (2" x 2.3" x 11.4") with the integrated features right out the box

MiniMax Features:

All-In-One Design – for use with Bio Pellets, GFO, & Carbon
Made from quality cell cast acrylic – Bracket Included
Smallest Form Factor
Responsive Flow Control
Low Power Consumption
Double O-Ring Seal for Lid
Offered in Desktop (150ml Max Volume Capacity) & Midsize (350ml Max Volume Capacity)
Pump Included
Just add your favorite Media
To see the IM MiniMax in action, here's a video clip highlighting its many features. Please note that the video is currently set to private and will only show after 10am EST.