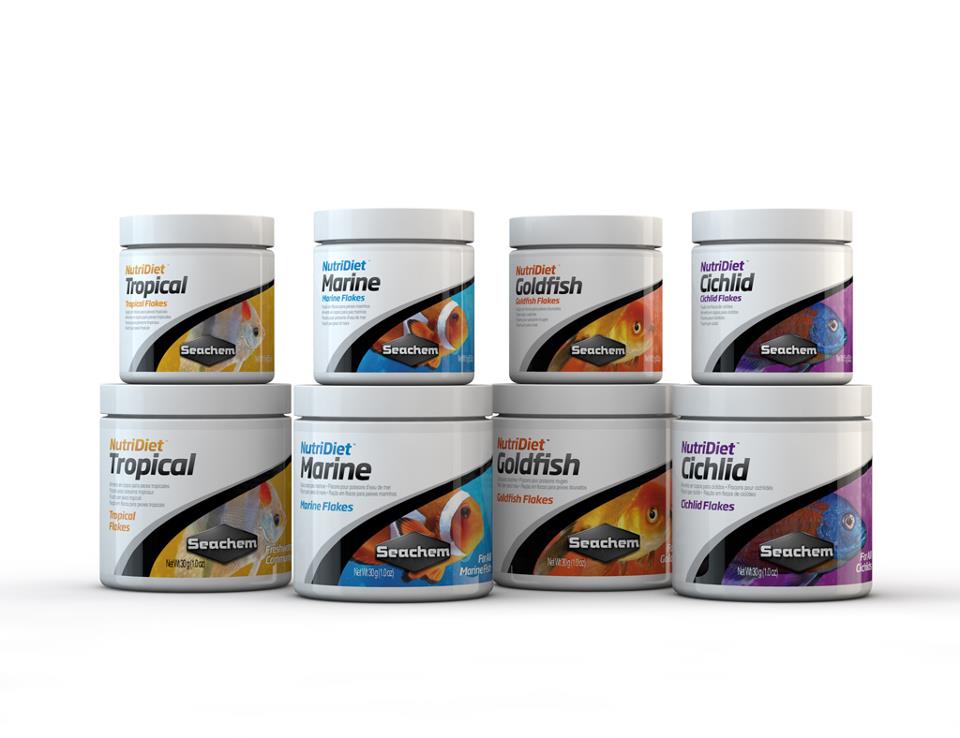 Despite all of the advances in aquarium foods over the last several years, flake food is still a very popular choice among aquarium keepers and many product labels. We'ved used flake food exclusively on at least one setup, and we're excited to see another company coming out with their a new flake food line. Seachem, who is best known for their aquarium additives, has a new line of food called NutriDiet, which was just released in four different varieties with promises of four more in the not to distant future. The first four lines cover a broad spectrum of aquarium life, including Cichlid Flakes, Goldfish Flakes, Marine Flakes, and Tropical Flakes. For obvious reasons, we'll focus in on the marine flakes, but if you would like to know more about the other three, we encourage you to visit the Seachem website.
As far as the NutriDiet Marine Flakes go, Seachem claims that they supply a nutritionally balanced diet formula that will meet all of the needs of your fish. The flakes have been enriched with garlic, chlorella, and Vitamin C. Also included are all of the important components normally found in aquarium foods such as protein, fat, carbohydrates, vitamins, and minerals.
The flakes are available in two sizes, 30g and 15g containers, and Seachem recommends feeding 1-3 times per day with as much as the fish will consume in a short amount of time. Additional nutritional information and a full list of ingredients are available on the Seachem website. We haven't caught wind of pricing and availability, but we'll udpate when we come across that information.