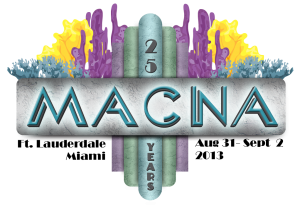 Heads up potential MACNA 2013 goers, the full conference pass to the show is almost sold out and this is just the second week of March. Ticket prices are set at $159 per full conference pass, which not only gets you access to the usual three full days of amazing aquarium equipment and livestock vendors, but the rest of the weekend's festivities as well. So, if you've been stalling on pre-ordering your tickets, there is no longer a legitimate reason to wait.
The reason for this flurry of pre-sales comes in part from the fact that this year's Marine Aquarium Conference of North America is in a prime location. It also helps that the show will feature a keynote speaker that is out of this world and a master of ceremonies that will make the Saturday evening banquet beyond entertaining. Richard Pyle will be giving the keynote this year, with his topics most likely covering the amazing fish he's collected from the deepest, darkest parts of the ocean that man can reach.
As for the location, what better spot would there be but South Florida? MACNA 2013 will be in the Miami/Ft. Lauderdale area, which is surrounded by great beaches, happening night life, and a rich culture for everyone to soak in when they're not nerding it out with fish stuff. So, if you had any inclination of going this year, GET YOUR TICKETS NOW! We've got ours and hope to see you there.