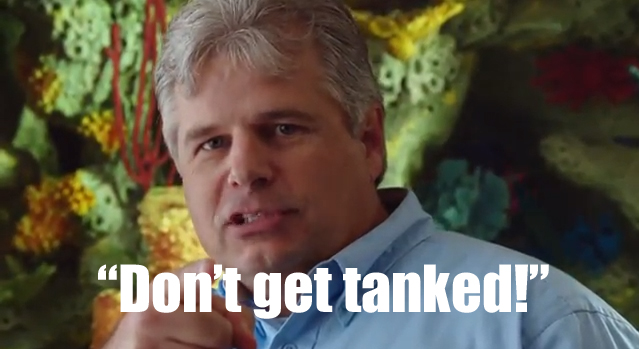 While suffering through the Animal Planet broadcast of some hokey mermaid rubbish, where digital renderings of mermaids are shown as proof of their existence, we got one hilarious interruption from the crew at Living Color Enterprises. A 'Fish Tank Kings' commercial aired during the hour-long special, and it took a direct shot at its rival television show, 'Tanked'.
Not only did the Nat Geo Wild commercial air on Animal Planet, a rival network and home of 'Tanked', but at the very end of the advertisement for their new season, a clear cut message was sent out to potential viewers. At the end of the commerical, Living Color Enterprises owner, Mat Roy, stated "Don't get tanked", which certainly gave us a chuckle.
We were not able to find the commercial that aired during the mermaid special online. We found a different version that excludes the obvious shot at "Tanked", and took some creative liberties with a screen capture from that clip to include the Mat Roy tagline.
We don't know how deep the rivalry is between the two aquarium builders, but we do know that the two sides aren't exactly thrilled about the other. Case in point, Acrylic Tank Manufacturing (stars of 'Tanked') took a shot at Living Color Aquariums when news broke that an aquarium they installed (but did not build) ruptured in a casino, flooding the floors and causing some serious damage. The ATM guys had announced the aquarium mishap on their own social media channels, prompting responses from Living Color that eventually led to a retraction and half apology.