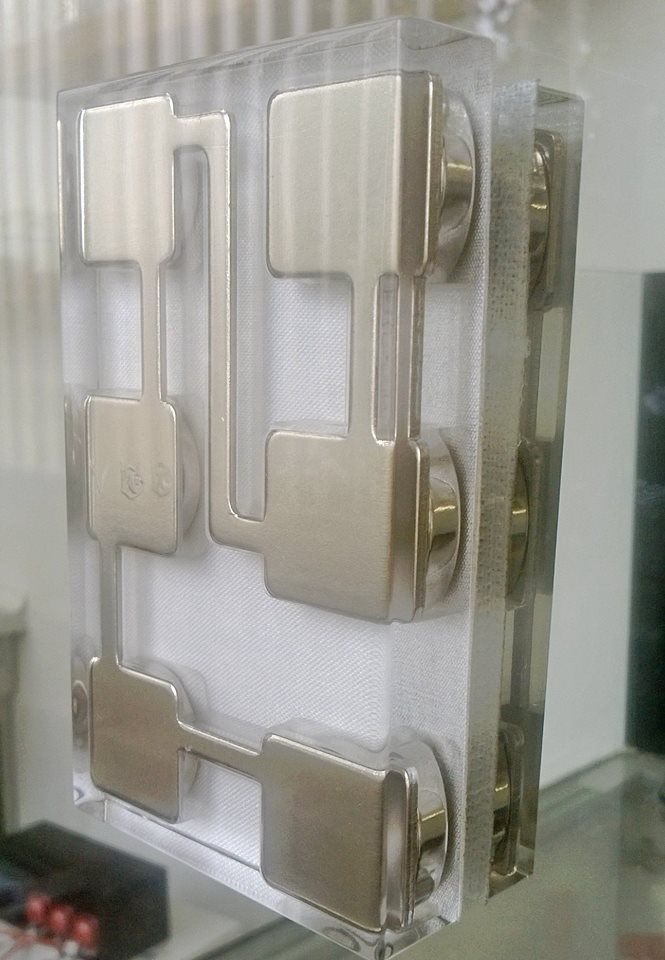 It's sleak, it's stylish, and it's big. We're talking about the new Hexaplex aquarium magnet, and it's one that Vertex Aquaristik recently teased on their Facebook page. Now, there's no product description or any reference to size of the latest addition to the Cleaner-Mag line, so anything we say about this new magnet is going to be purely based on assumption…and assume we shall. From the looks of it, the magnet will be around the side of a credit card, and it carries the same design cues from its smaller siblings. Six magnets adorn each side of the magnet, which can be easily seen through the clear body of the stylish algae scraper.
The magnets are a little different than what are seen in the other products of the Cleaner-Mag line. Instead of just a few uninspiring circles of metal wrapped in clear resin, Vertex decided to be a bit more creative. Their magnets are connected to each other with a thin piece of metal, making the overall look of the cleaner resemble the connections on a circuit board. It may not appear like much, but it just goes to further show how Vertex is attuned to making their products stand out visually.
Getting back into the realm of assumption, the retail price of this new Hexaplex magnet probably won't be cheap. We are thinking it will retail somewhere in the range of $75-100. We based this off of the fact that the second largest magnet in the line, the Triplex, retails for $35. This new magnet is easily double the size of that model, if not larger, and it's magnets probably have to be  a bit stronger as well. Still, considering that other less visually appealing magnets can easily cross the $100 barrier, if our assumptions hold true, it's not a bad price at all. This Hexaplex magnet will probably be suitable for aquariums with 3/4″ glass.
We are awaiting more detail from Vertex, and we'll be sure to update accordingly once those have been revealed.