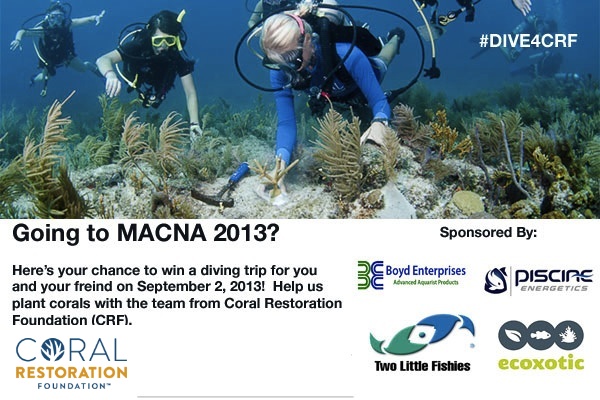 If you're going to MACNA this year in Florida and love to SCUBA dive, then this promotional contest will be right up your alley. Our pals at Ecoxotic, in association wth Two Little Fishies, Piscine Energetics, and Boyd Enterprises, are giving away a free trip for you and a friend to go diving with the Coral Restoration Foundation to help them plant corals on Florida's reefs. To enter the sweepstakes, all you have to do is sign up on the contest page (see link below), like a few Facebook pages, and post a tweet for three additional entries. You can enter the contest multiple times (at least once per day).
The trip will take place on September 2nd, 2013, which is the Monday following the MACNA festivities. Winners will have to be SCUBA certified and at least 16 years or older.
For more info, be sure to visit Dive4CRF with Ecoxotic & Friends. We've entered several times and would absolutely love the opportunity to go diving with the CRF crew.