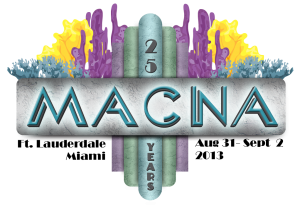 With MACNA only days away at this point, the rumor mill is in overdrive as to where next year's conference will be held. As usual, some of the rumors are more along the lines of people getting their hopes up. Others are dead on accurate. And there are even a few that are intentionally misleading. We know next year's locale, as several trusted sources have all stated the same thing to us. Out of respect for this year's event and the group that has already gotten next year's planning underway, we won't slip the details. That said, we will warn folks scouring the web, social media networks, and fish forums to not trust everything that's on the web.
A recent posting on the Fishpionage website indicates that MACNA 2014 will be in either Seattle or Portland. Will it actually take place here or not? We won't say, but it's a big rumor hitting Facebook already and is suspiciously being promoted by some of folks at MASNA, who organize MACNA every year. Obviously that is quite uncharacteristic, so we've got our doubts about this one.
Others have posted that the show is in Las Vegas, Denver, and a few other locations. At this point, many of you are still way off in your guesses. But who knows, maybe Sin City is ready for an aquarium conference. After all, they are home to the 'Tanked' guys. Could the Mile High city be primed to host next year's event? There's a lot of money in that city, but do snow and aquariums really go well together?
Again, we know but we aren't telling. Just be careful with what you believe and don't go buying airplane tickets or booth space to the next show until it is officially announced at MACNA 2013 later this week.