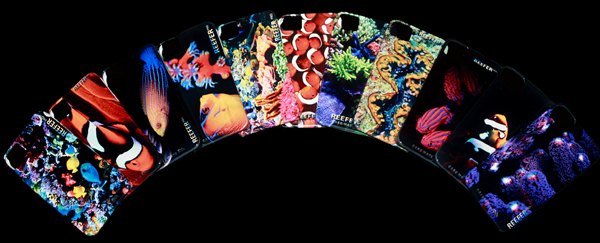 Listen up all you aquarium junky smartphone users. Aquarium Specialty recently announced that they have acquired distribution rights for the Reefer Pro line of cell phone cases, and given all of the varieties currently available, there's certainly one out there that will be right up your alley. While the cases may not add any direct benefit to your tank or its inhabitants, they will certainly let you take your love for the hobby with you everywhere you go. Each Reefer Pro cases is decked out in beautiful high resolution images of reef life, including rare fish like the Anampses femininus wrasse and stunning reef scenes, just to name a couple. All in all, there are at least a dozen cases, each currently listed at a special pre-order price of $29.99.
The Reefer Pro cases are carefully designed, with images being carefully chosen from thousands and thousands of pictures. Those images are then "re-mastered" so that they fit each type of case in a full wrap-around form factor. The cases are available for a wide variety of smartphone models, including the iPhone 4/4S/5, the Samsung Galaxy S2/S3, HTC One S/X, and several Black Berry phones. Besides beautiful imagery, the case is very protective of the hardware. The Reefer Pro cases are manufactured by Casemate, and fall under the "Barely There" range that is unobtrusive and slim, which we love.
Aquarium Specialty will be accepting pre-orders for cases until October 11, 2013. Orders placed by that date are guaranteed to arrive on the first shipment, which is due sometime in mid to late October 2013. After the pre-order period is over, the cases will cost $36.99 each.