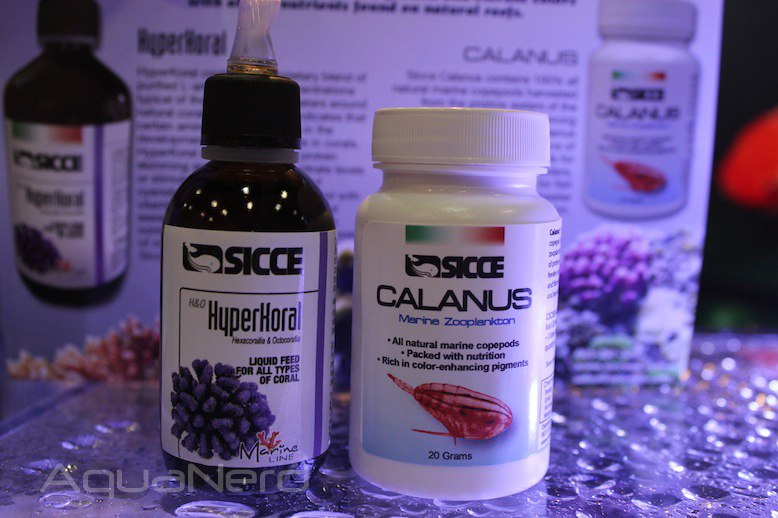 Back in May, the American arm of the Italian aquarium product company, Sicce, announced a new reef feeding program. The lineup consists of just two products, called Sicce HyperKoral and Sicce Calanus, but they promised to be a complete dosing system to meet all of your corals' needs. When dosed hand in hand with each other, they target LPS, SPS, soft corals, and other filter feeders. While at MACNA, we got to see these two coral foods in the flesh, while also getting a full rundown of what they bring to the proverbial dinner table. Below is a summation of what each product accomplishes.
HyperKoral is a product that delivers purified L-amino acids, vitamins, and carbohydrates to your corals in a liquid substrate. These components are said to be in concentrations that mimic what is found on wild coral reefs, and because of their chemical makeup, they are not removed via protein skimming. According to Sicce, HyperKoral does not contain hyrolysates, which are a mix of peptides and L- and D- amino acids. The peptides are removed rapidly by protein skimmers, and most organisms don't use D-amino acids.
Calanus, on the other hand, is a product that contains nothing but pure freeze dried marine copepods. These pods, which are harvested from the Arctic Ocean, are rich in proteins, lipids, minerals, and a color enhancing pigment.
This two part food dosing system is designed to be used every other day, with a recommended dosing amount of 1ml per 100 liters of aquarium water. Sicce recommends dosing while the lights are off, a time when corals are heavily feeding.
Both HyperKoral and Calanus are stable at room temperature and do not require refrigeration. They stay good up to one year before expiring.