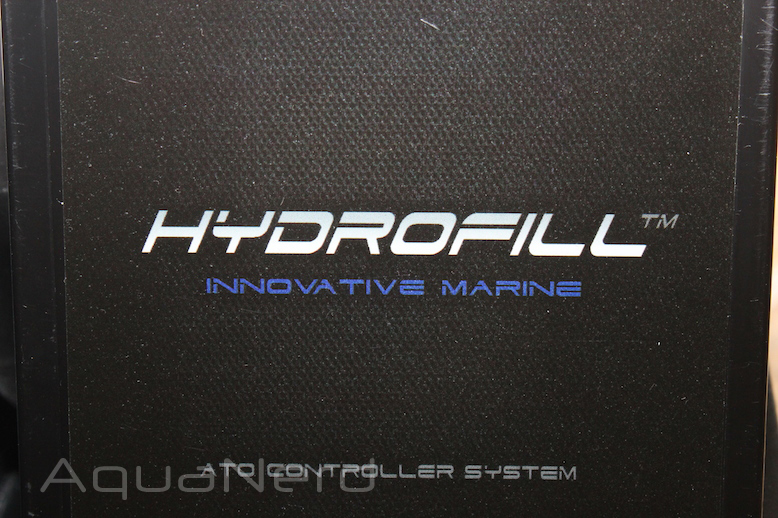 Innovative Marine has really been rounding out their Auqa Gadget lineup with some very useful products this year, and one of their most anticpated pieces of equipment has been the HydroFill auto top off system. We've been covering their entire lineup rather extensively, and we recently had the opportunity to get some significant one-on-one time with this ATO. While we haven't finished up all of our routine testing, we wanted to just take a minute to share our initial overview and unboxing of the HydroFill, as well as discuss all of the product's potential uses.
Perfect for tanks of any size, the HydroFill system is composed of two independent components, the HydroFill controller and the HydroFill ATO diaphragm pump. Both products are packaged separately and can be used independent of each other, allowing aquarists a little more freedom with pump selection and use. The controller has a single power outlet that has a 1000W, 8Amp/120V capacity. That's a ton of power, which may seem a bit excessive, but it allows hobbyists to use virtually whatever pump they want to top off their aquariums. This is important especially for people with large tanks or those who have their auto top off reservoirs located a significant distance away from their tank or sump.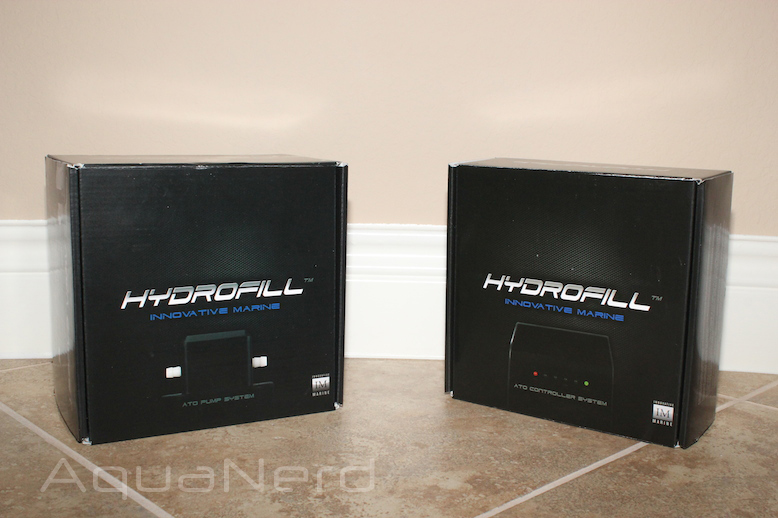 The HydroFill ATO controller detects the sump's water level with a pair of conductivity probes that each have a pair of graphite tips. When water hits these probes, a low voltage circuit is completed, which tells the diaphragm pump to turn on to replenish evaported water. The probes for the production model HydroFill controller are secured to the tank with neodymium magnets, though ours came with suction cups. Either way, both probes can be located anywhere the aquarist wants to place them, allowing for custom "High and Low" set points to prevent constant On/Off cycling of the pump.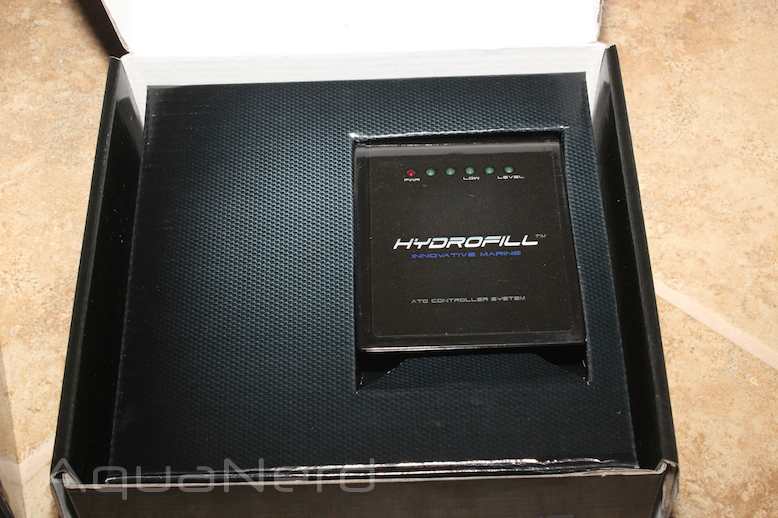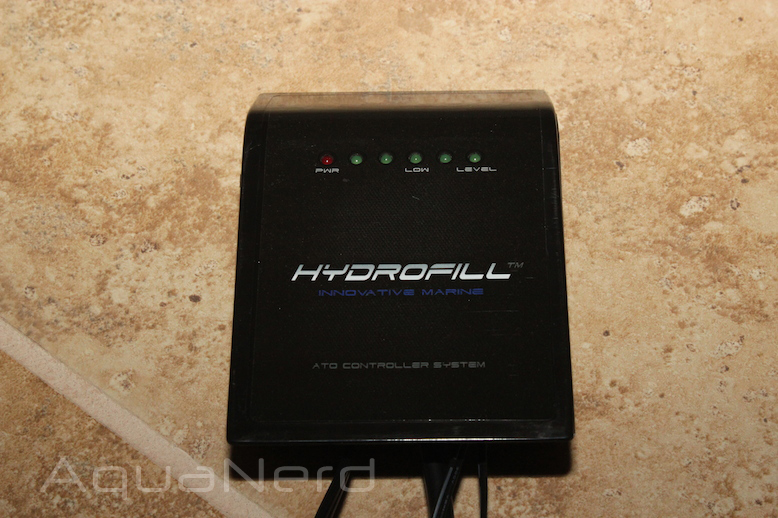 Along with the controller, the HydroFill ATO system also includes a low voltage diaphragm lift pump. The pump pushes 15 gallons per hour with a max head height of five feet. It comes with lots of return plumbing (return pipe, acrylic mounting bracket, 10 feet of silicone tubing, and 3 hose clamps) along with a mounting bracket so that you can hang the unit. Rubber feet adorn the bottom of the unit to reduce any vibrational noises that could occur if the pump were resting on top of something. Additionally, the pump is self-priming pump and comes equipped with a built-in check valve to prevent any back siphoning.
To view the HydroFill Controller and HydroFill pump, be sure to check the Innovative Marine website for additional details.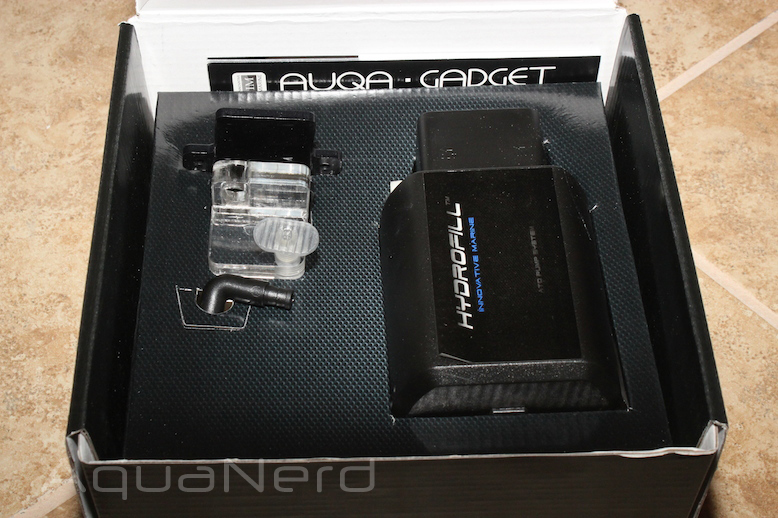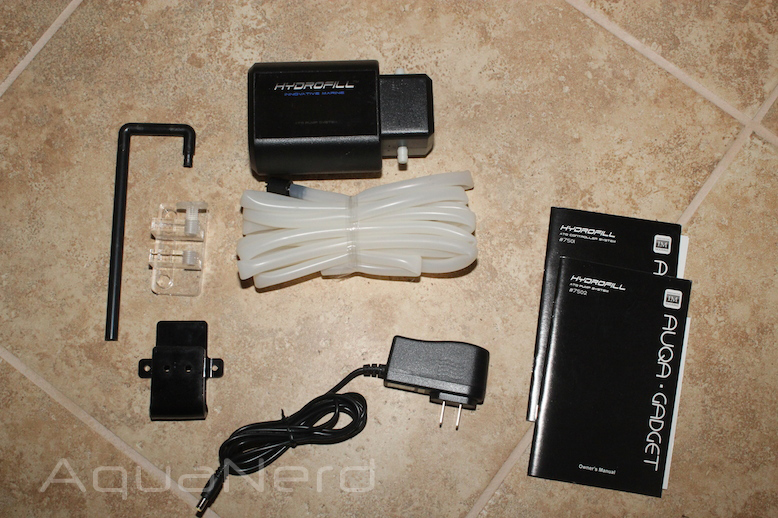 Some addition specs…
HydroFill Controller:
2 Year Warranty
Conductivity Method
For use in Fresh & Marine Applications
Controller Dims: 3.35" x 1.18" x 5.12"
Includes Double Sided Adhesive
1000W, 8Amp/120V Pump Capacity
Power Consumption: 1 Watt
Visual LED indicators

Power -Red
Level – Green
Low Level – Green
Water Filling – Pulsing Green
HydroFill Sensors:
Small Form Factor: 0.91" x 1.06" x 2.64"
(2) Sensor Design
Safe 5V Low Voltage
6 foot sensor cables
(2) Rare Earth Neodymium Magnetic Sensor Holders
Chemically Inert Graphite Electrodes
HydroFill Pump:
2 Year Warranty
Positive Displacement Diaphragm Pump Method
Self-Priming
Built-in Check valve
Dry Run Protection
Thermally Protected
Low Voltage
1/4″ barb fitting
Up to 15 Gallons per Hour
Pump mounting bracket (Framed Tank Mounting Brackets Sold Separately)
Return Kit:
10 feet of silicone tubing
(3) hose clamps
Acrylic mounting bracket
Return pipe