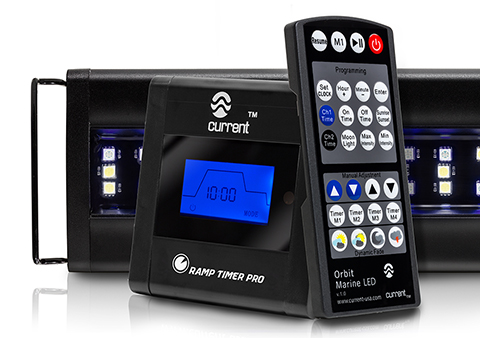 Several months back, Current USA debuted their Satellite LED lighting for freshwater aquariums, and the whole time we were thinking when they would release a set of stylish, low-profile, tank mounted lights for to the saltier side of the hobby. Sure, they already had the True Lumen and True Lumen Pro strip lights, but these were bare bones setups that, in our honest opinions, sacrificed aesthetics for pure function. Ideally, those lights were meant to hide inside of canopies or tank hoods. Well, the (somewhat) new Orbit Marine LED fixtures is Current USA's response to that question, as they look pretty sharp, mount over an aquarium with built-in legs, and are loaded to the brim with some really useful features.
According to Current USA, the Orbit Marine LED fixtures sports the aquarium industry's first dual daylight and dual actinic multi-chip LEDs. They accomplish this by combining 8,000K and 12,000K white into one chip and 445nm and 460nm actinic blue into another. Wrangling all that light in is a set of 120 degree optics, which spread the light out for a more uniform distribution of the color and prevent spotlighting.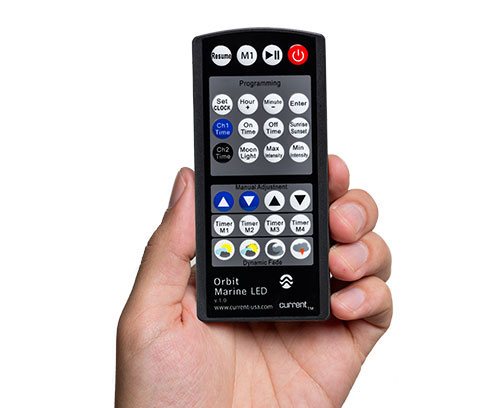 Another great feature to the Orbit Marine fixture is the incorporation of a 24 hour timer. Called the Ramp Timer, a product we first saw at MACNA eariler this year, this light controller includes a wireless remote and can slowly ramp up and dim the intensity of the LEDs over an extended period of time. The lights change over a 30 minute period, and the changes are so subtle that you'll likely never notice it while standing right there. Along with the robust on/off ramping, the timer also has on-demand weather effects like lightning, cloud cover, and a fading moonlight. And of course, besides ramping the lights on and off, the controller also allows for the spectrum and intensity of the light fixture to be changed at will.
There are four different models available, with the shortest covering tanks up the 24″ long and the largest for tanks up to 60″. Prices vary from $180 to $300 depending on the size of the fixture.