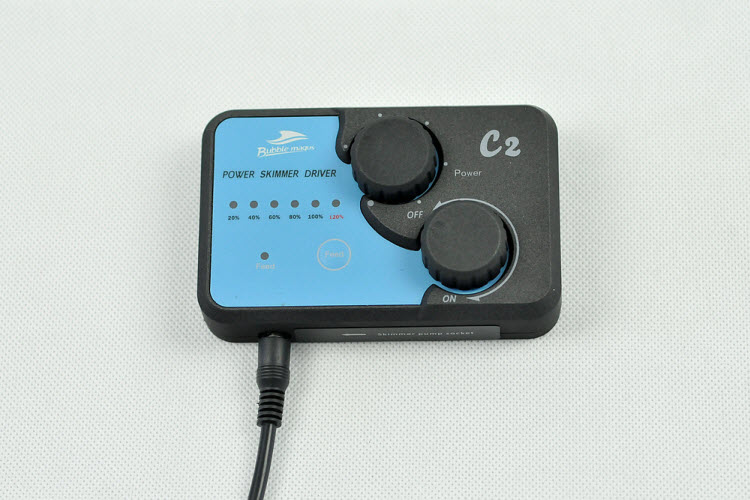 Bubble Magus is really stepping up their game as the end of the year draws closer. In addition to the DC powered Wave Pumps, which we spoke about yesterday, they also have a set of brand new DC controllable skimmer pumps and return pumps for those hobbyists in need of a bit more control. Info and images on the return pumps have yet to surface, they promise them shortly, so for now we'll just focus on the new DC skimmers.
Announced by Sea Side Aquatics, the skimmer pumps will come in two models. The largest of which, the S50, draws 45W while cranking out a peak air intake of 1500 liters per hour. The junior model, called the S20, draws only about 20watts and has an air intake of 900 LPH. Besides those two data points, the only other thing we can state about these pumps is that they look rather standard issue, with a large diameter intake feeding a rather ominous looking needle wheel impeller. It's hard to get a sense of scale, as the two images posted below and the others we've seen on the Sea Side Aquatics website don't give us many hints.
While DC controllable pumps are no longer a new thing in the hobby, we like the fact that the often budget friendly Bubble Magus skimmer line will be using them. To make the marriage between the BM skimmers and the DC technology even better, the new DC Power Skimmer pumps appear to be heading to the BM Hero line of protein skimmers. These cone shaped skimmers will incorporate the pump in a very space friendly capacity, placing it directly under the bubble plate to minimize its overall footprint.
Moving on from the pump, we find a C2 Power Skimmer Driver, which is the control box that tells the pump what to do. Like the pump, there's nothing new that the controller brings to the table, and the buttons seem a little confusing. Besides the straightforward feed timer, we see two knobs that control "power" and "on/off". The power dial we get. There needs to be a way to ramp the flow of the pump up or down. Buy why a dial for on/off? A simple button would suffice. We feel the use of the dial has more to do with the form factor, which is also in use on the C1 controller that handles the DC Wave Pumps…so likely a cost cutting strategy.
As with the Wave Pumps, the DC Power Skimmers are expected to hit the market sometime in early 2014. If any more details surface, we'll try to lay them out for you here.