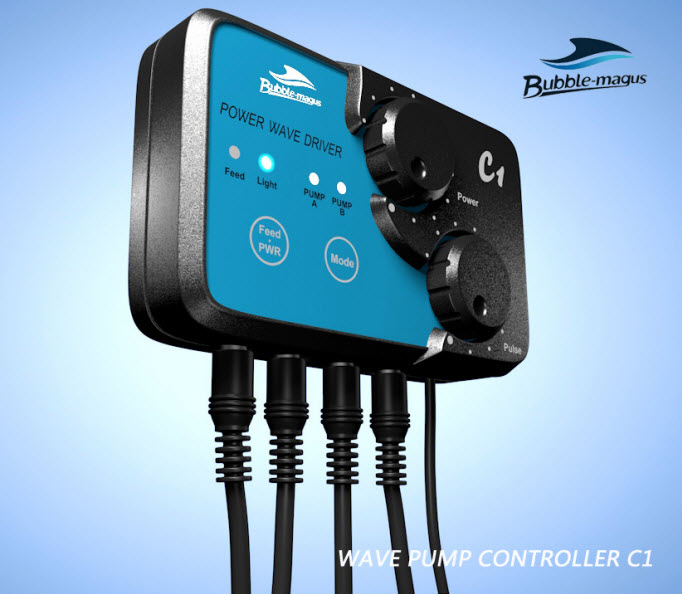 After what seems like an eternity since their last new product, Bubble Magus is making their presence felt once again as they dive into the world of DC pump powered gear. Besides a nifty new DC powered protein skimmer line, which we'll touch on later, the budget friendly aquarium equipment manufacturer is releasing a set of DC Wave Pumps complete with their very own controller. The pumps will come in two models, a mid range W20 that cranks out 6000 liters per hour (around 1578 gph) at 20 watts of juice and a much more powerful W70, with a max flow of 16000 lph (4210 gallons per hour) at 70W. Each pump will be controlled by the new Bubble Magus C1 controller, which has outlets for up to four total pumps spread across two different channels.
The pumps themselves are fairly straightforward. They have a typical design that includes a a large propeller sitting behind a plastic shroud. What's interesting here is that it appears the pumps have two different shrouds, or at the very least an add-on for each pump to allow for a more focused water flow. On a side note, we assume these shrouds are interchangable, as the main portion of the shroud looks different between the same size  pumps…meaning, the two shrouds on the W20 pumps look a little different from each other (besides the tip of course). Either way, the pumps will give plenty of options to aquarists seeking a greater flow variety.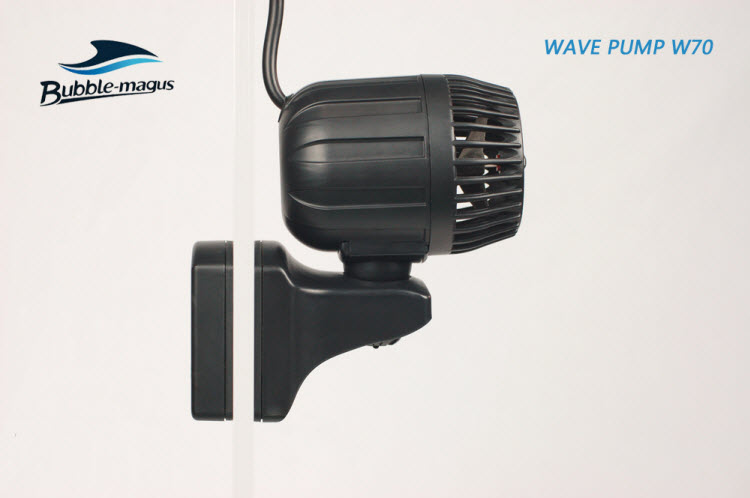 Mating the pumps to the aquarium is a magnet mount that is not too dissimilar from the mounts seen on the Taam SEIO pumps. If those similarities hold true, then we can expect the Bubble Magus DC Wave Pumps to be able to point in virtually every direction. The vertical position obviously being controlled by the pump's placement along the aquarium wall while the pump itself can be pointed in any direction horizontally.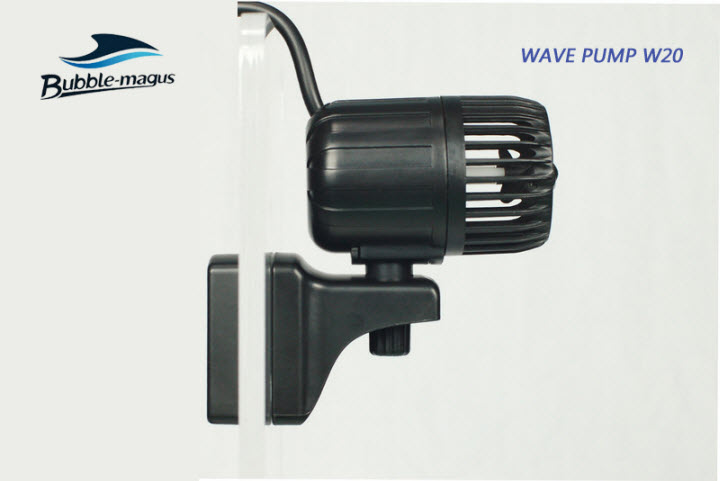 Moving on to the controller, we see a few LEDs and a couple of big dials. One dial controls the power of each pump channel, while the other controls the frequency of the pulse. Unfortunately, there are no numbers on the dials to tell what percent or duration the pumps will operate at. It's not necessary in the broader view, but those two data points would certainly be nice to have. As for the LEDs, those are merely indicators that tell what state the pumps are in, such as which channel is currently one and if the pumps are off during feeding. Which brings me to my next point. The C1 controller has two additional buttons on board, one of which turns the pumps off (presummably) while the hobbyist is feeding their fish, and the other that lets the user cycle through pump modes. We don't know if the pumps will simply pulse on an off, or if they'll have some random flow or sync/anti-sync modes.
The expected release date for the DC Wave Pumps is sometime early 2014.
We had originally planned this article to go live on December 3rd, but due to a very busy schedule and getting caught up with things outside of the blog, we were not able to do so. Fortunately, our inability to go live the first time around has actually benefitted us, as a little more information and some much better images have surfaced about these new Bubble Magus products. Otherwise, you'd all have to suffer through some bad cell phone quality images.
Images and info found on Sea Side Aquatics. We will cover the DC powered Bubble Magus skimmers in another article.