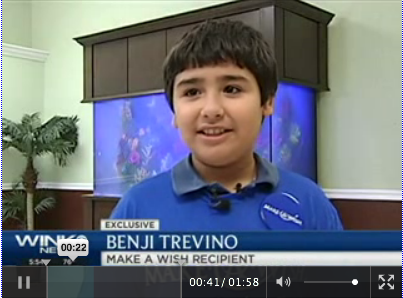 Here's a feel good story to cap off a year that has been full of aquarium industry drama. A young boy in south Florida, 10-year-old Benji Trevino, recently had his wish fulfilled when Living Color Aquariums teamed up with the Make-A-Wish Foundation to install a large aquarium at his church. Benji, who suffers from Spina Bifida and who has had to have two major surgeries this year alone, has a passion for animals and wants to be a marine biologist when he grows up. So, when he heard what the foundation would do for him, he immediately asked for a six foot long aquarium to be installed at his church.
Cranking up the "aww factor", Benji could have had the aquarium installed in his parents' home where he could enjoy it daily. Instead, he asked that it be installed at his family's church, Ministerio Esperanza Church, so that all of his friends and family could enjoy the tank with him. The tank is 270-gallons and features lots of low maintenance fish and elaborate coral inserts.
For the original story and the video, be sure to visit Wink.