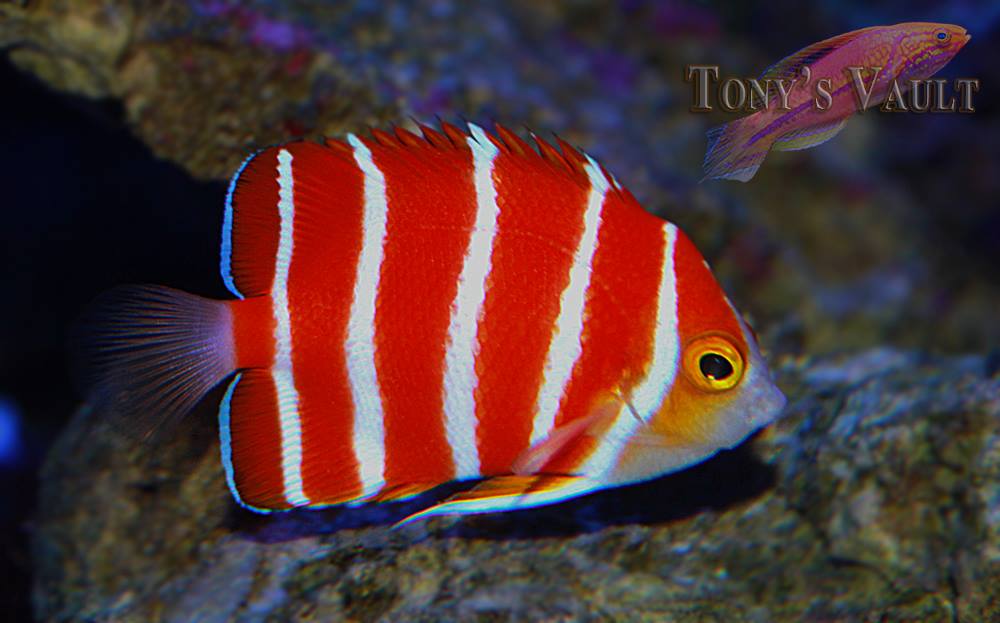 Last year saw a huge and unprecedented influx of peppermint angelfish into the aquarium trade. By our count, at least fourteen were collected and distributed throughout the hobby thanks to noteworthy efforts by Koji Wada of Blue Harbor Japan and famed deepwater fish collector, Rufus Kimura. While in most situations a fish of this stature would likely be sold to an affluent collector in any one of the numerous Asian countries where aquarium keeping is held in such high esteem, several of the holy grail angelfish made it into the states. The latest of which comes to us from Tony's Vault, a high end division of TFT Distributors headed by well-known industry figure-head Tony Vargas.
According to the announcement on Tony's Vault, this latest peppermint angelfish has been in captivity for more than three months, likely being one of the nine that were collected back at the end of September/beginning of October 2013. The fish is also said to be eating well, is acclimated to low light conditions (these fish from from really deep waters typically), and not shy when people approach.
The picture above is of the actual specimen, and there are plenty more on the Tony's Vault Facebook page (see links above),
It should also be noted that this is the first peppermint angelfish to be offered in 2014, and it's a tremendous way for not only Tony's Vault and TFT Distributors to kick off the new year, but a great start for the aquarium hobby in general. Heck, given all of the news that's been thrown down in the first two weeks of the year, we are going to have really high expectations for the other 50 or so weeks that remain.