"The Revolutionary New Red Algal Feed"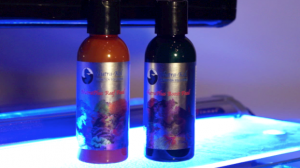 Nutra-Kol USA is a up and rising company first based out of Australia that makes interesting and well thought out food supplements. The NutraPlus product line contains high levels of minerals, vitamins, fatty acids and carotenes that are ideal for any filter feeders, fish and marine organisms. They claim to enhance and brighten natural colors of any organism kept under "artificial conditions" such as aquariums. The NutraPlus range of products include several feeds scientifically designed to address the specific requirements of different marine organisms. The products are ideal as a sole food source for filter feeders, food additive for any fish and crustacean species as well as replacement of traditional green microalgae in 'green water' systems.  NutraPlus products are already being used in several public aquaria, as well as private and government hatcheries in Australia and around the world. This is pretty impressive for a company you probably haven't heard of.
NutraPlus Reef  is a microalgae and rotifers mix for carnivorous and herbivorous filter feeding animals in marine aquariums.  It contains the red microalgae Dunaliella salina and green algae from the Chlorella, Spirulina, and Nannochloropsis species.  It is also infused with a combination of rotifers (Brachionus plicatilis), copepods, and other zooplankton at a concentration of over 2000 per ml. This higher concentration makes it more ideal for larger aquaria.
Continue to the bottom of the article for a video review of each product.
Chemical analysis (gr/100gr dry weight)
Protein >10
Lipids >9,
Carbohydrates >9.5,
Chlorophyll 0.026,
Beta-carotene and mix carotenoids 2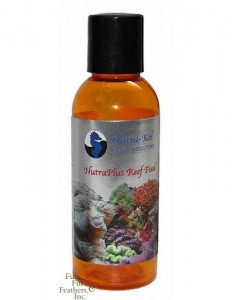 NutraPlus Boost is a unique food additive used to supplement any fresh, frozen or dry feed.  It contains a unique mixture of red and green microalgae (Dunaliella salina and Nannochloropsis sp.), with added vitamins, herbal extracts, and immune stimulants, scientifically designed to boost and enhance the vitality and stress resistance of any marine animal kept in an artificial environment.
Vitamins (in 100 ml)
Ascorbic acid (vitamin C) 20000 iu,
Retinol (vitamin A) 10000 iu
Mix tocopherols (vitamin E) 3000 iu
D3 1820 iu
K3 1.9 mg
B1 2 mg
B2 2.73 mg
B6 2.85 mg
B12 0.0143 mg
Pentothenic acid 13.1 mg
Folic acid 0.95 mg
Nicotinic acid 47.6 mg
Biotin 0.05 mg
Glucans (immune stimulants) 1000 mg.