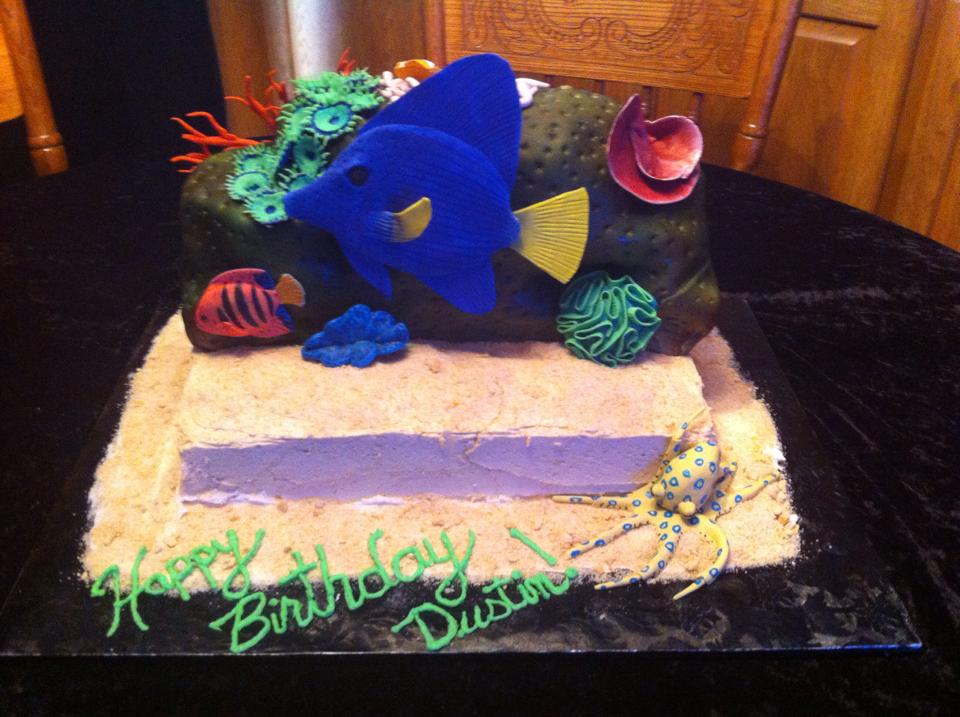 Everyone enjoys their special day a little differently. Some folks like to spend birthdays with family, others take time to themselves, and some just like to ignore the day as if it were nothing special. But everyone has a sweet tooth and it's universally accepted to indulge that little fella on this special day. While most do it with cookie cakes or free restaurant desserts with some embarrassing song and dance routine, others go all out and truly have fun with it. Such is the case for Dustin LaBo, who had Erin Munster from Cake-It is make a cake befitting of the most hardcore aquarium keepers.
We've discussed aquarium themed cakes in the past, with some aquarium themed wedding cakes with fully functional reef aquariums really catching our attention. But this cake is different. Each of the organisms is hand-crafted and totally edible. Sure, you could make the case that live fish are edible as well, but surely they are not as scrumptious.
This cake features a "sandy" substrate and live rock backdrop, with a large purple tang dominating the scene. A flame angel hovers near a Tridacnid clam, a blue ring octopus peeks out from behind a corner, a royal gramma basslet protects his favorite gorgonian, a clownfish hangs out in its anemone, and a bunch of spot-on zoanthids add a touch of color. This cake is epic in every sense of the word, rivaled only by .
Continue below for a full gallery of images from this cake, and hit the link above to visit the "Cake-Itis" Facebook page for more details of this, and other awesome pastries.