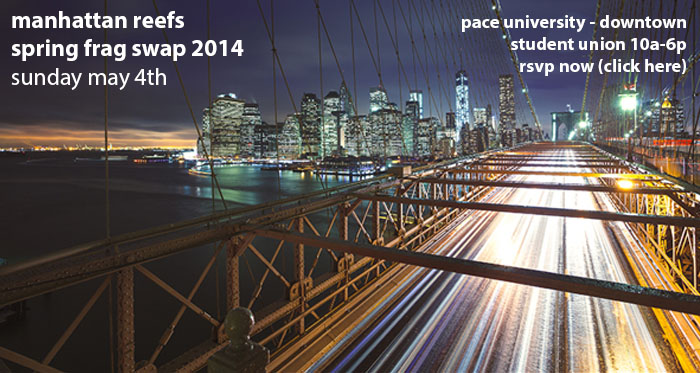 Didn't we mention that the aquarium conference season is heating up? Well, if you need a reminder, just take a look at the calendar, which is filling up fast. Another event that's right around the corner is the annual 2014 Spring Frag Swap hosted by Manhattan Reefs. This frag swap, which is really more of a single-day conference, takes place on Sunday, May 4th at Pace University in downtown New York. It will feature guest speakers Francis Yupangco and Laura Birenbaum, along with well more than a dozen vendors and a pair of frag workshops to fill the day.
The doors open up at 10am, a raffle will go down at 4pm, and the show will come to a close two hours after that. Tickets are $25 per person with an online RSVP form on the Spring Swap announcement thread.
As far as the guest presentations go, the "Fish Geek" will talk about massive tank builds of the Middle East, surely a unique topic, and Laura will tell the tale of her efforts in captive rearing dwarf cuttlefish…again a unique topic that you won't see from any other speaker.