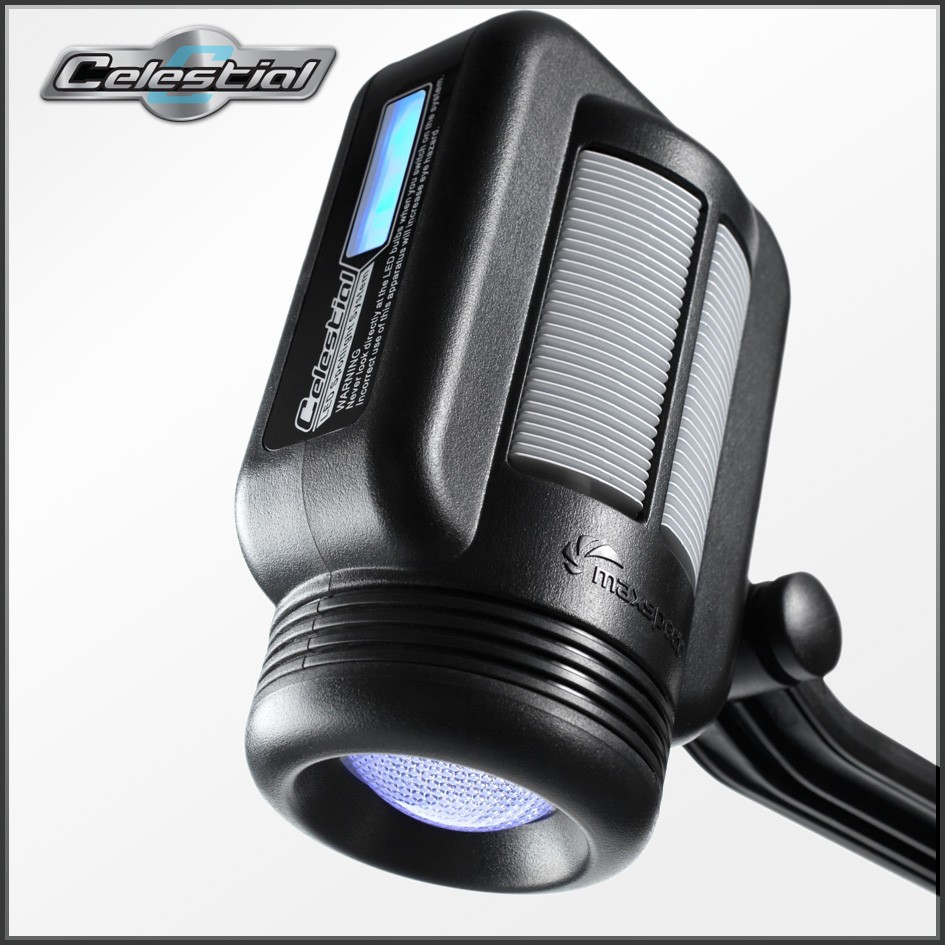 It's been almost a year since it's MACNA 2013 debut to the aquarium keeping world, but the Maxspect Celestial LED spotlight is finally close to a public release and its announcement is being accompanied by a whole bunch of new information. What we already known over the past several months was that the Celestial was a pendant-style LED light that incorporated the tiny Maxspect controller right into body of the light. What we weren't expecting, however, was the fact that it would be available in three different models. The Celestial C35, so named for its 35watts of power consumption, will come in a full-spectrum RGB model that has a total of four channels of independent control, along with a dual-channel actinic version and a dual-channel algae friendly version for growing algae in a refugium.
The flagship model, in all likelihood, will the be Celestial C35-F, the full spectrum version. The full-spectrum nature of the light will make it a great choice for illuminating just about every marine aquarium out there, and the robust control will let users fine tune the color to their liking. Across its four channels, this multi-chip LED light features:
Channel A: Super Actinic (x2)410nm, (x2)420nm, (x2)430nm
Channel B: Blue (x2)445nm, (x2)465nm, (x2)485nm
Channel C: White (1)5000k Cool White, (1)3000k Warm White, (1)660nm Hyper Red
Channel D: White (1)5000k Cool White, (1)3000k Warm White, (1)500nm Cyan
The other sure-to-be popular model is the Super Blue Actinic C35-S. As its name suggests, it emits a whole bunch of blue light. It is meant to be a supplement for aquariums needs that extra touch of blue. The all-actinic model only has two channels, but given the fact that it only offers up the blue, there's no need for multiple channels.
Channel A Super Actinic (x4)410nm, (x6)420nm, (x4)430nm
Channel B Blue (x3)480nm, (x2)500nm Cyan
The third and final version of the Celestial is the Aquatic Algae Growing C35-A. This light is quite intriguing, as it is aimed squarely at macroalgae growth. Like the actinic light, the algae growing model has just two channels of control. It loads up on the reds and whites, making them a perfect choice for refugia or algae scrubbers. As for the color combo, the C35-A has the following LED configuration:
Channel A Hyper Red (x14)Hyper Red
Channel B White (x4)3000k Warm White
Common features across all models include:
Programmable color channels / Integrated dawn to dusk
Smart Cooling Technology

Temperature controlled fan
Advanced heat-sink
Integrated heat pipes

90 degree lens in junction with nano-tech painted reflective cups
Licensed COB multi-chip LED
Versatile mounting system
Utilizes Cree Ez1000 core chip