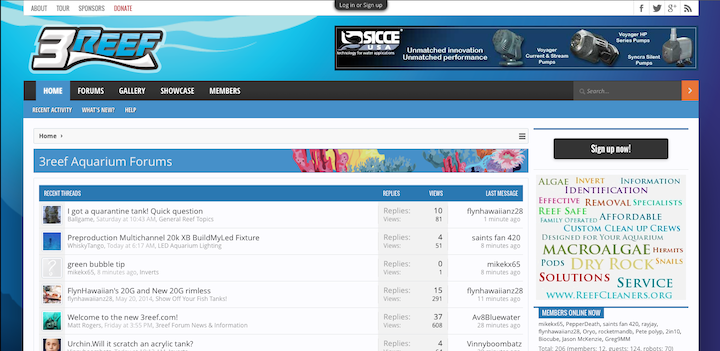 Sometimes you have to tear something apart to make it better again. And that's exactly what happened with our pals at 3Reef, a marine aquarium forum whose roots go all the way back to 1996. What other online aquarium organization can say that? Some, obviously, but not many. Anyways, after running smoothly for several years, the site's founder Matt Rogers wanted to shake things up by giving the site a new look and new features. After all, technology constantly changes the way we interface with our online stomping grounds. So, after hiding away in a what Matt describes as a "small cave full of beer and cheese", he came up with a completely new site.
Matt spent several months planning and a week of non-stop coding to get the look he wanted. It has a nice, modern finish that runs well on all devices, both mobile and not. As far as features, there are probably too many to name, but Matt was especially proud of the all new Aquarium Showcase, which is exactly how it sounds, as well as a much improved gallery that now has streaming video. There are several other updates in the works from what we're told, but we haven't been filled in with every detail just yet.
As part of the coding and redesign process, the 3Reef forums were down for about a week. Matt jokes that it did wonders for traffic, suggesting we give it a try sometime, but we'll just take his word for it. That aside, the website is up and running, working seamlessly from our viewpoint and looking great on top of that. So, if you're looking for new aquarium related stomping grounds, we suggest you hit up 3Reef. Lots of great stuff to be had there.