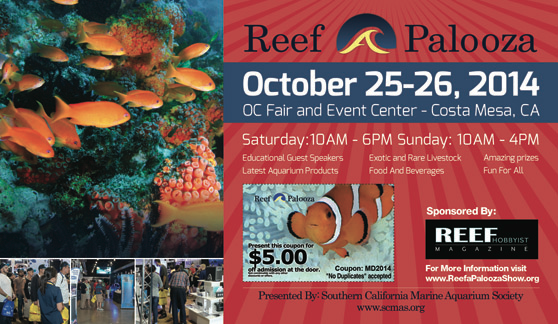 Reef-A-Palooza is back and they're planning to be bigger than ever. Last year saw an absolutely monstrous show, with over 5000 saltwater hobbyists showing up to check out the vendors, buy up coral frags, and take part in the guest speakers and demos. 2014 will likely prove no different, as RAP, now in its 11th years, is following the same model that has been such a stellar hit. This year's show will take place Saturday and Sunday, October 25-26, at the Orange County Fair & Event Center in Building #10. This facility has 20,000 square feet of climate-controlled goodness, and it will be jam packed with aquarists from all over.
Hosted by the Southern California Marine Aquarium Society (SCMAS), RAP will feature Tony Vargas and Matt Wandell as its guest speakers and a total of five workshops for hobbyists to enjoy.
Ticket prices start at $15 at the door, with seniors 60 and over getting a $5 discount and children 12 and younger getting a free pass to all the action.