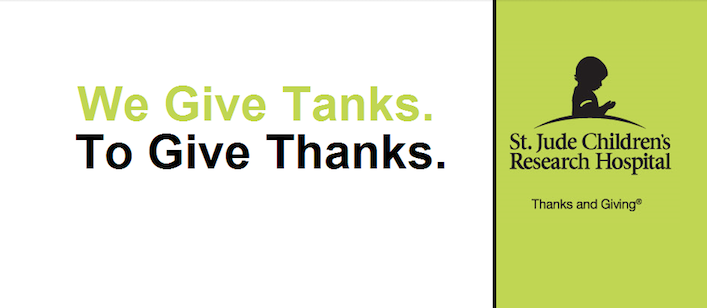 Last year, Reef Savvy kicked off what looks to now be an annual tradition with their extremely generous raffle for the St. Jude "Give Thanks. Walk." event. In that raffle, they were attempting to raise $10,000 by giving away a 50-gallon aquarium setup, and a whole bunch of other companies also dug deep to come up with a ton of other goodies to help get Reef Savvy to their goal. The raffle was a success, as that goal was not only reached, but surpassed in a big way. For 2014, Reef Savvy is back and their contribution this year looks to double what they were able to accomplish last year, with the goal this time being a whopping $20,000.
To view the raffle and to donate, please click HERE. To read all about the raffle prize and all of the other goodies from the other donors, continue below.
To help reach this goal, Reef Savvy has also made the raffle item larger, opting for a 100-gallon Limited Edition RedBottom Aquarium. The tank has the following dream list of features:
Reef Savvy™ 100G Limited Edition RedBottom Aquarium
48″L x 24″W x 20″H
1/2″ (15mm) glass with a high polish and beveled edges
4 sides Diamant™, ultra clear low iron glass
1″ (30mm) Glass & PVC Phantom Bottom
Smoked Glass & Acrylic Hybrid Overflow (includes bulkheads and a black PVC overflow kit with Loc-Lines)
In addition to the aquarium, several other companies have tossed on a ton of goodies as well. And that list will grow daily until the end of the raffle period.
In no particular order:
Orphek: Azurelite Flashlight shipped to your door!
Melev's Reef: 100 GPH RO/DI Unit shipped to your door!
Orphek: Two (2) Atlantik Pendant WiFi, Router & 7″ Android Tablet shipped to your door!
Neptune Systems: Full APEX System Shipped to your door!
Synergy Reef Systems: White Series SS-28 Sump shipped to your door!
Next Reef Systems: MR1 Media Reactor & SMR1 Bio-Pellet Reactor shipped to your door!
Global Oceanic Life: Next Reef Systems NSX1 External Recirculating Protein Skimmer shipped to your door!
High Def Corals: $250.00 box of corals shipped overnight to your door!
Ocean View Aquariums: Seachem Basket featuring the full line of Aquavitro Reef Supplements, Matrix Carbon & Phosguard shipped to your door!
A bit more information from the St. Jude raffle posting:
The tank will be crated and shipped to your door anywhere in contiguous United States FREE of charge. The raffle tickets are $10.00 each. For every 10 you buy, you will receive 1 FREE ticket! Ticket sales will be made in the form of donations to this page. Once you donate, and we receive the confirmation email, we will assign you a ticket number and email it to you. The raffle drawing will be on Thanksgiving Day, Thursday November 27, 2014. We will be selling tickets till Thanksgiving Day 12:00 PM, the raffle drawing will be at 7:00 PM. The drawing of the ticket will be filmed and posted on www.facebook.com/reefsavvy for everyone to see!

How your donations help:

Thanks to donors like you, families never receive a bill from St. Jude for treatment, travel, housing or food.
St. Jude freely shares the breakthroughs it makes, and every child saves at St. Jude means doctors and scientists worldwide can use that knowledge to save thousands more children.
This is an extremely generous donation by Reef Savvy and all of the other companies involved. We love to see so many different people step up to the plate. Now let's help Reef Savvy reach their goal!