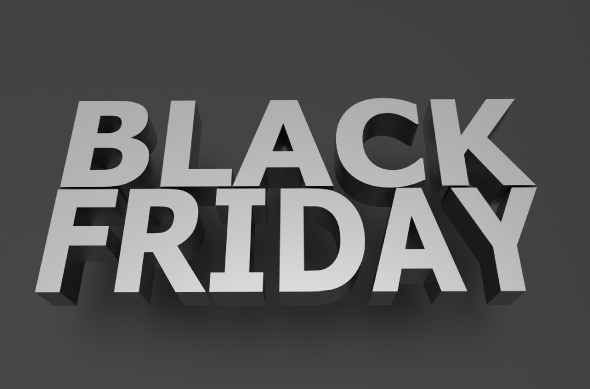 What better way is there to celebrate the Thanksgiving holiday than to trample four small children, shove a few little old ladies, and knock over a guy with a cane just to you get that no-name tablet at a steep discount? If you can tell from my inflection, yes, it is the shopping season and Black Friday is peaking its ugly head around the corner. Fortunately, these sorts of shenanigans don't happen at aquarium stores, especially since many of them are all online anyways. And in lieu of that fact, we've compiled a beefy list of Black Friday and Cyber Monday specials that are occurring right now at your favorite online aquarium retailer. While it will be full of the usual discounts on random items, this year also marks the first time products from EcoTech Marine, AquaIllumination, Neptune Systems, and a few others will have advertised discounts (not in the form of online rebates). So, we're excited and you should be too.
Below is our list of retailers and each of their deals spelled out in the best way we could. We tried to cover a wide array of retailers, but unfortunately there are just too many to list.
List of retailer specials, in alphabetical order.
Save 16% on your entire order and special pricing on select products

10% off Neptune Systems
15% off AquaIllumination Hydra TwentySix and FiftyTwo, 10% off AI Controller, Director, and Classic Mounts
15% EcoTech Marine VorTech MP10 and MP10w, 15% off all Radion Models
15% off Kessil fixtures and 10% off selected accessories
10% off Reef Octopus, CoralVue, and AutoAqua

Free shipping on orders over $99
In addition to the sitewide discounts, AquaCave also has over 70 deeply discounted doorbusters
Sale ends December 1, 2014
No other restrictions were stated
16% off site-wide with coupon code THANKS
Special pricing on the following:

Royal Exclusiv – 20% Off Select Bubble King Double Cone, Supermarin and Deluxe Protein Skimmer, Red Dragon Speedy 50w and 80w pumps and Space Saver Media Filters
CoralVue/Reef Octopus – 10% Off the CoralVue line of products – CoralVue/Reef Octopus, Maxspect, Flipper Mags, Giesemann Lamps and Elos Test Kits (Sale excludes CoralVue/Reef Octopus/Elos Aquarium Systems, Sumps and Maxspect Gyres)
Ecotech Marine – 15% Off MP10ES, MP10WES, Radion XR15wPro and XR15 Freshwater
Aqua Illumination – 15% Off Hydra TwentySix & FiftyTwo LED Modules, 10% Off Directors, Controllers and Classic (SOL) Rail Kits

Sale Ends 12/1/14
No other restrictions were stated
20% site-wide discount with coupon code "THANKS2014
Biopellets are 50% off with coupon code "SITEBUSTER-BIOPELLETS"
Sale runs from 12:00am Black Friday to the end of Cyber Monday at 11:59pm. If any product becomes sold out during this time, AVAST Marine Works will be unable to honor this sale pricing in the future when it is restocked (e.g. no rainchecks)
Instead of putting a blanket discount on products, Aqua SD is hosting a live sale of sorts over on their Reef2Reef forum.
They listed over 500 corals in their sale thread, and to purchase, all you have to do is copy and paste the Item Number, Description and Price, and email it to: aquasandiego@gmail.com.
Shipping is flat rate $40 via UPS Priority. Shipping will occur Tues 11/25/14 for Weds 11/26/14 arrival. If this ship out date does not work, they will ship the following week (12/2, 12/3, 12/4).
15% off site-wide (with exclusions)
30% or more off daily doorbusters
15% off Vertex Aquaristik, 10% off Reef Octopus, 10% off Maxspect
Discounts exclude vendors with minimum advertised pricing (MAP), no rainchecks
20% off all corals on the website, along with special updates Friday evening at 10pm and on Cyber Monday at 10am EST
Sale starts on Thanksgiving Day at 8am EST! Runs until midnight on Cyber Monday!
35% off site-wide with the coupon code "THANKS14"
Sale excludes glue products and frag packs
Free shipping on orders over $139.99
Sale ends 11/30/2014
15% discount site-wide with coupon "BLACKFRIDAY2014" (exclusions apply)
Brand/Item specific discounts:

15% off AquaIllumination Hydra TwentySix and FiftyTwo, 10% off AI Controller, Director, and Classic Mounts
15% EcoTech Marine VorTech MP10 and MP10w, 15% off all Radion XR15 Models
15% off Kessil fixtures and 10% off selected accessories
10% off Neptune Systems products
10% off Reef Octopus, Maxspect, CoralVue, and AutoAqua
15% off select Tunze Turbelle and NanoStream pumps

Free shipping on orders over $175
Free bag of aquarium goodies on orders over $200
Free t-shirt of your choice on orders over $250
Site-wide discount of 16% (excludes MAP items, which have their own discount)
Sale ends midnight, December 1st, 2014 (EST)
The following brands are excluded from the site-wide discount, but have their own special pricing (which likely follows those listed above):

Aqua Illumination
Bubble King/Red Dragon/Royal Exclusiv
CoralVue/Reef Octopus/Elos/Giesemann/Maxspect
Ecotech Marine
Kessil
Neptune Systems
NP
RLSS
No discounts listed, but they are giving away free frags with purchases of specific amounts:

Orders $1 – 150+ receive ONE free coral
Orders $250+ receive TWO free corals
Orders $300+ receive FOUR free corals
Orders $400+ receive SIX free corals
Orders $500+ receive EIGHT free corals
Orders $600+ receive TWELVE free corals
15% off Phoenix DIY Kits Promo Code: Phoenix15
10% off Everything else Promo Code: Holiday10
No other information stated
In store discounts include:

Up to 75% off tropical fish (Includes designer fish and selected species)
Coral frags and colonies up to 60% off (On selected non special items)
Clean up crew packages starting at $30 (Contains at least 25 inverts per package)
Dry goods up to 20% off
All EcoTech products 15% off

Online four day sale for Cyber Monday
Earn 10 percent off for Black Friday sale on all products from Reef Octopus, Maxpsect, Bubble Magus and more
Neptune system products will go on sale 28th-30th
Various discounts ranging from 30% to 60% on more than 1200 items
Free shipping is included with no minimum purchase size
20% off your entire order with coupon code "UCTG20"
New inventory is added daily
Sale ends November 30th
Cyber Monday sale with over 400 corals discounted by various amounts
Free prizes that include:

2 Tickets to ReefAPalooza Orlando

1 $300 WWC Coral Gift Card
1 Frag of Strawberry Stratosphere
1 Pair of Sustainable Aquatics Extreme Picasso Clownfish
1 $100 WWC Coral Gift Card

WWC will post corals priced at $5 each throughout the sale. You can buy a maximum of 2, and you must buy at least 1 regular item for each $5 coral.
WWC will also be giving out $100 gift cards to post number 1000, 2000, 3000, etc
Everyone who makes a purchase during the sale will qualify for the raffles and gift cards! You can only win once.
Sale takes place Monday, December 1st at 2 PM EST and lasts 12 hours