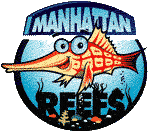 Want to get out and enjoy the cooler weather with fellow aquarists? Well, if you're in New York, specifically Brooklyn, then we've got the event for you. Manhattan Reefs is hosting their annual Fall Swap this Sunday, November 16th from 10am to 6pm. The event will be held at the Pratt Institute and will feature both Ret Talbot and Paul Whitby as the headline speakers.
Along with the guest speaker, the swap will host a pair of fragging demonstrations and a nice raffle. Almost 20 vendors have been confirmed for the frag swap, but if you would like to attend, you must RSVP really soon, as the show always sells out. Admission is $25 per person, with that fee including a catered lunch and access to some free product samples.
If you want to attend or just to find out more info, be sure to visit Manhattan Reefs.