Hello AquaNerd blog readers…I wanted to introduce myself. My name is Brandon P., not to be confused with the other Brandon and creator of this blog.
I, like many of you, am an avid reader of this blog and I saw Brandon's post about his two new additions to the household and his call inviting anyone who wanted to possibly help fill in the potential gaps in articles, which will be understandably inevitable, by taking care of twins. I decided to reach out and see if he would be interested in having me write for the blog. After some discussion, you are now reading this introductory post and I will be writing for the blog going forward. I am not a replacement for Brandon, merely an additional contributor.
My tentative plan, for me, is to both write on the op-ed side of things to offer a bit more in depth sort of articles and I will do some review articles as well. My first article will be up in the next few days, be on the lookout for it.
Some background on me…I have been around an aquarium, in one form or another, for the better part of 25 years. My step father has always had a tank in the 150gal+ range, from the days when running the old school under gravel filter and bio balls were cutting edge. I myself have successfully kept tanks ranging from 1gal picos to 350gal full blown reefs and in almost every form of livestock you can have, ranging from: fish only, softies, LPS, SPS, NPS, mixed reefs, even cold water (55F), I have raised cuttles, had a few cephs, sharks and rays as well.
My other passions are photography and I am also, one of the biggest gear-heads you will ever meet. I have been a professional photographer for the last 8 years and I have been modding and wrenching on cars since I was 10 years old. Since I am from the hyper eco-friendly land of the PNW, I am a bit of an outcast and an abomination for my love of everything that has an engine powering it. 😉
I currently write for a large photography blog as a regular contributor and I will be starting my own automotive blog on the modified life of car culture. So while I am new to writing for an aquarium driven blog, writing for a blog in general is not.
I do very much hope you, the readers, enjoy my ramblings and I encourage you to be active and comment on my posts, if there is something you would like to see me write about, please, please do not hesitate to reach out to me.
I thought I would leave one of my favorite images, I've taken in the last few months. It is a geometric pygmy hawk fish in yellow gorg.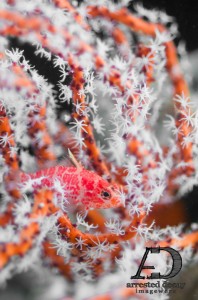 I look forward to hearing from as many of you as possible and being part this great blog!