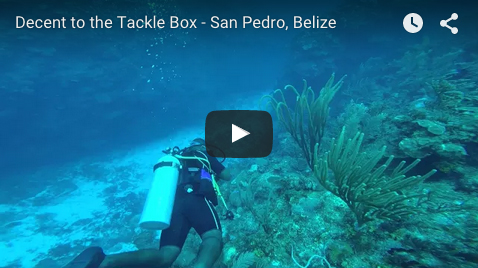 One of my favorite dives in San Pedro, Belize was to a location known to the locals as "The Tackle Box."  Named after the Tackle Box bar which once was situated directly onshore (now Shark's Bar), this site features several deep, narrow canyons with vertical walls.
In the video above you will notice some divers overhead at a depth of about 60 feet.  That is my 16 year old daughter and her group on their way to becoming PADI open water certified.
As with most dive sites near San Pedro, Tackle Box Canyon has a mooring buoy that provides dependable access to the rugged reef terrain on this part of the barrier. By following the narrow channel next to the mooring line seaward, you will come across a short tunnel decorated with sponges and other colorful encrusting organisms. Beyond this you will find a cavern with a gap in its roof, large enough (barely) for a diver to pass through.  If you are even slightly claustrophobic then this may be a little unnerving for you.
While exploring the area we were greeted by a seven foot nurse shark.  The shark took a special interest in me and spent about five minutes circling and swimming around. Our dive master explained that this behavior was very unusual for nurse sharks which typically exhibit shy behavior around humans. When we returned to the boat, the dive master started calling me, "shark man, you are the shark man"!  Although not recorded in the video, the shark was so close to me that I was able to touch her on several occasions. I am not sure if she was sizing me up for dinner or just saying hello. Either way, it was a very cool experience.
If you ever get a chance to dive San Pedro, make sure you ask your dive group if you can check out the Tackle Box dive site.