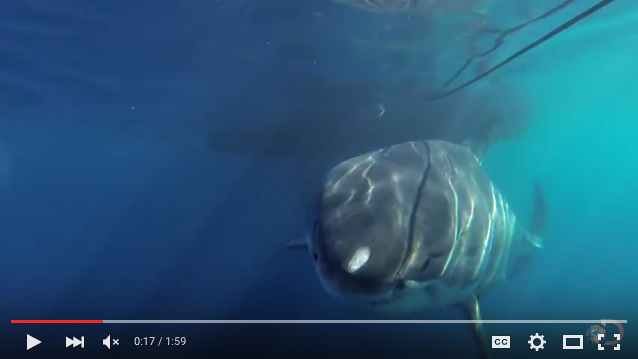 A marine research group is calling it "the biggest shark ever filmed".  The great white shark is estimated by the conservation group Pelagios Kakunja to be 20 feet long and 50 years old.  The researchers are calling her Deep Blue.  At the time of this footage researchers believed that Deep Blue was pregnant.
The female Great White was spotted off the coast of Isla Guadalupe, Mexico.  You will notice that Deep Blue has a rather large laceration on her right side.  The dive master was trying to push her away from the cage so that she wouldn't get hurt.  To see Deep Blue in action click the video link above.  The video has over 3 million views since it was posted to YouTube a few days ago.
The shark was spotted near Isla Guadalupe, off the coast of Mexico, Hoyos Padilla's Facebook post noted. Pelagios Kakunja is based in the Mexican city of La Paz in Baja California Sur.
The video, titled "Deep Blue (The biggest shark ever filmed) second part," comes after footage was posted in June of the same great white swimming around near a divemaster in a diving cage.
"The dive master was pushing the shark away — it has a big laceration on the right side," Hoyos Padilla told Live Science in June. "It was really close to the cage, and they have pointy ends. It is so big it couldn't turn properly. So he was trying to push her away, because he didn't want her to get hurt."
The film was shot for a 2014 Discovery Channel documentary.
Here's more footage of Deep Blue in action.