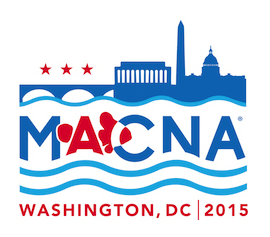 Last week, my wife Kristen and I traveled to DC for MACNA 2015. The show offered an opportunity for the premier of many new and exciting products from industry titans such as Elos, CoralVue, Ecotech Marine, Aqua Illumination, Orphek and many others. In the coming days and weeks, we will be writing about many of the new products that were debuted at the conference.
Here is a short recap regarding the attendance and activities at MACNA XVII (2015) (Information obtained from MACNA co-chair, Craig Kuhn)
The preliminary attendance number for MACNA XVII was 3670 (exceeding 2013's record by 11.2%). That would make this the largest MACNA conference since it's inception.   Exhibitor space for the conference was 95,000 square feet.  I don't have the exhibitor numbers for previous MACNA conferences but I believe more exhibitors attended this year's conference than any previous year.  In all, 155 exhibitors displayed everything from aquarium supplies to livestock and included coral farmers, fish breeders, importers, manufactures, coral vendors, bloggers and aquarium forum hosts.  The conference included 24 internationally-known speakers that spoke on a variety of topics including Invasive Lionfish, Fish Collecting in the Twilight Zone, Palytoxin and Suburban Clam Farming just to name a few.  A VIP reception at the National Zoo's Amazonia exhibit featured performer Benjamin Hoyt.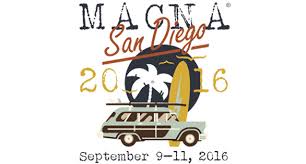 If you haven't already heard yet, MACNA XVIII will be held in San Diego next year.  Below is a recent press release from next years hosts, the San Diego Marine Aquarium Foundation (SDMAF).
Marine Aquarium Conference of North America 2016 (MACNA) to be hosted in San Diego, California. San Diego, CA – August 25, 2015 – The San Diego Marine Aquarium Foundation (SDMAF) is excited and proud to announce that MACNA 2016 will be held in San Diego, California September 9th-11th, 2016. MACNA is proudly sponsored by: Triton GmbH, Instant Ocean, CoralVue, Neptune Systems, Two Little Fishies, Reef Nutrition, Rod's Food, JBJ, eShopps, and San Francisco Bay Brand. MACNA is widely considered to be the top conference and trade show in the marine aquarium industry. MACNA attracts attendees from all over the world that come to see the industry's newest product offerings from the top manufacturers in the industry and interact with some of the brightest minds in the marine aquarium hobby. MACNA is currently in its 27th year and 2016 will mark its first return to southern California since 1998. For more information about MACNA 2016, please visit www.macnaconference.org/2016. SDMAF is a registered 501(c)(3) non-profit educational organization dedicated to supporting the local aquarium hobby through educational outreach, fostering new hobbyists, and furthering the advancement of captive bred marine ornamentals. MACNA is a registered trademark of the Marine Aquarium Societies of North America (MASNA). For more details about MASNA and its member clubs, please visit www.masna.org Contact: Jeff Saurwein – MACNA Co-Chair jeff.saurwein@sdmas.com Dave Morris – MACNA Co-Chair dave.morris@sdmas.com PO Box 600104 San Diego, CA 92160. We look forward to see you next year in San Diego!