Aquarium maintenance companies are often asked to set up up a fully functional reef aquarium as quickly as possible. You know, just like they do on those reality TV shows. Well, entertaining TV aside, that's not how it works in the real world of reefkeeping is it? A successful start to a reef aquarium requires establishing the necessary bacterial colonies to manage nutrient loads and avoid toxic accumulations of nitrogenous waste. Nevertheless the speedy set up of a life-sustaining reef aquarium is an appealing concept if it can be done in the interest of the inhabitants. And we're not talking here about cycling a new system with stressed out damselfish.  
New on the reefkeeping scene is a system aimed at the professional aquarium maintenance companies, designed and developed by Steve Lowes of Cayuga Aquatics. Steve informs us that the ACE 170 aquarium is the result of 10 plus years of product development based off his experience designing, building, installing and maintaining high-end reef systems. With a 4 foot x 4 foot footprint and a 170 gallon low-iron glass display, the ACE 170 is well suited for installation in your local dentist, doctor or lawyers reception area. While the ACE 170 was built with aquarium service companies in mind, it has attributes that are interesting to anyone looking to avoid the common pitfalls associated with starting a new reef tank.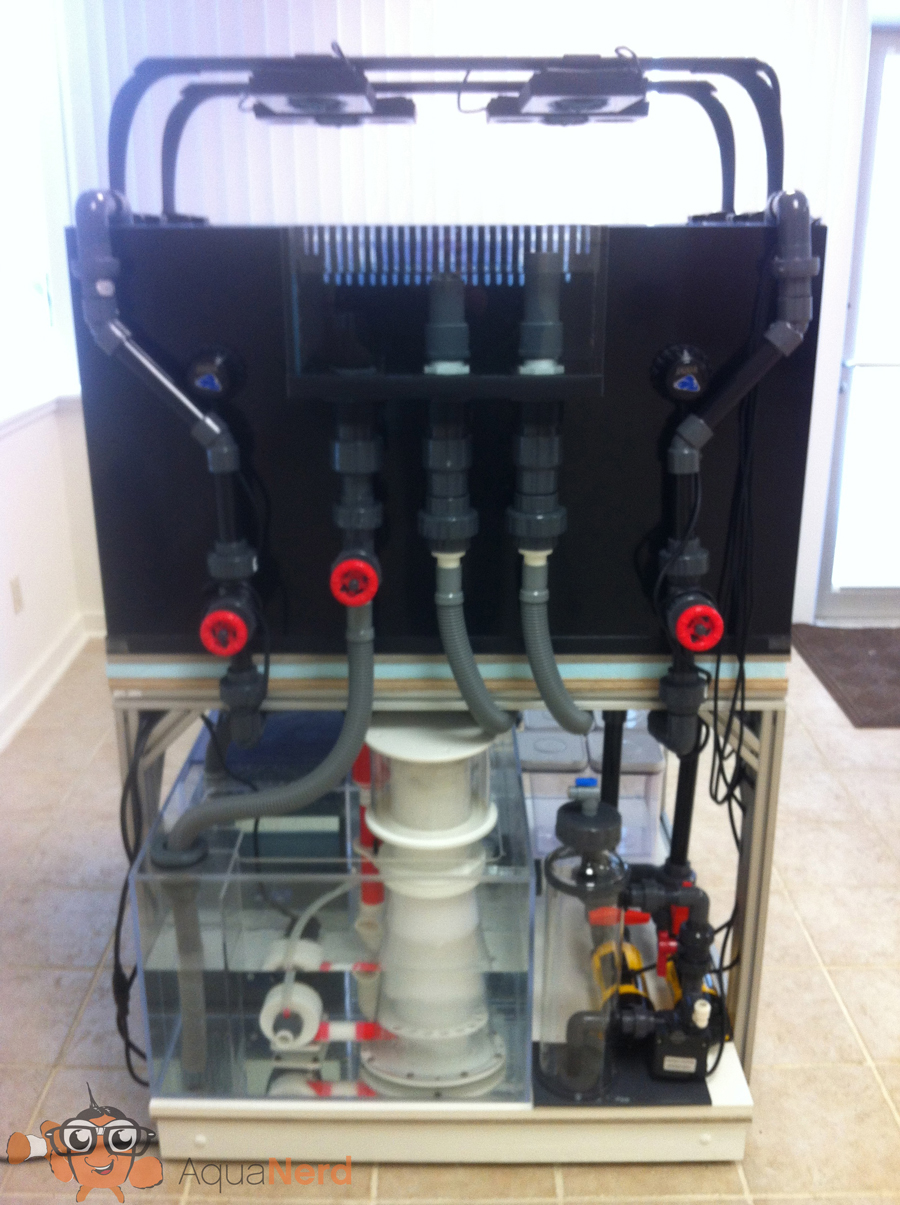 There are several aspects to the ACE 170 that differ from a typical reef setup. These are all highlighted in the video recently released from Cayuga Aquatics that introduces the ACE 170.  Steve tells is that "ACE" stands for Art, Conservation and Education, three of the principles that Cayuga Aquatics is built upon. Most evident is a modular approach to the biology necessary to establish and maintain a healthy reef system. While not referenced in the video, Steve terms this collectively as, "Aquarium Integrated Modular Biology System" or AIMBioSys.  He claims this is a big step towards the ability to quickly set up a fully functional reef aquarium by establishing the required biology off-line first.  By importing the essential biology on a unique arrangement of inoculated ceramic plates, modular sand beds and live rock Steve has demonstrated the ability to set up a reef aquarium suitable for the public reveal in a matter of a few days. Once established, the ACE 170 is a reef aquarium built for long-term success with even the most challenging SPS corals.  Of particular interest, the AIMBioSys approach involves minimizing the anaerobic process in the display itself and conducting these in areas of the system that afford easy maintenance and routine replacement.
The video is about 15 minutes in length but some key features included in the video are:
Removable (and cleanable) background that hides two Vortech pumps and an aerobic bacteria area while simultaneously causing a gyre flow throughout the display

The integrated modular biology concept (AIMBioSys)

A sump design that allows independent control of protein skimmer filtration and a low flow anaerobic bacteria area

Low porosity aquascaping to help avoid long term nutrient build up and associated problems

Recirculating biopellet reactor that incorporates controlled acetic acid dosing

Exchangeable cabinetry skin on an aluminum support frame

Fully integrated plumbing with main return pump redundancy

A low-noise, external overflow
All in all it's an interesting approach to establishing an impressive reef system.  Even if the complete ACE 170 is not for you, there are some ideas here that are worth considering.  And if you are an aquarium service company looking to make a client happy quickly with a fully functional reef that is also designed to avoid the common maintenance headaches, you should watch the video.  More information on the ACE 170 can be found on the Cayuga Aquatics website and Facebook page.