No doubt many of you reading this article haven't heard of this corner of the planet.
Our goal here is to provide you with a brief introduction to what we call the Paradise of Asia.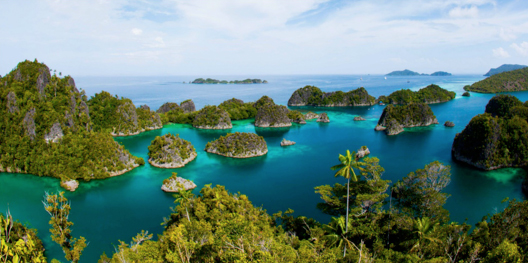 Those of you who have visited us before will remember vividly your adventures in this region while those who haven't been here yet will begin to dream about it.  Raja Ampat, or 'the Four Kings,' is an archipelago made up of 1,500 islands in Indonesia's West Papua province, It is situated in the center of the Coral Triangle and has some of the richest marine biodiversity on earth. Since Raja Ampat has become part of a protected marine park, a variety of animals including sharks, manta rays, dugongs and tortoises, are once again able to rule the ocean kingdom here.
Of all these animals, the most curious is the Dugong.  It is the last survivor of the Dugongidae family to inhabit the coral reefs of Indonesia. Half elephant and half Cetacean, it is one of the strangest animals you will ever see.
We'd like to tell you about some of the many activities you can engage in while you are in Raja Ampat.
Diving in Raja Ampat
In our opinion, Raja Ampat is one of the best places on earth for scuba diving regardless of whether you are an expert diver or a beginner. Raja Ampat boasts a rich marine biodiversity where you will find manta rays, mimic octopi, orangutan crabs, the aforementioned dugong, and ghost pipe fish. The variety of corals in this zone is also spectacular, including more than 505 species.
For the non-divers, Raja Ampat offers endless white sand beaches where you can snorkel and swim amid the corals while viewing an amazing variety of sea life.
Some of the most famous places to dive are Mioskun Island, Koh Island, Fam Island, and Wayag Islands. Other equally outstanding diving spots include; "Cape Kri" where the record was set for the most species viewed in a single dive; "Batu Lima," located very close to the Biodiversity Resort; and "Blue Magic," with its wide spectrum of marine life.
For more information related to diving in Raja Ampat check this page.
Excursions on Raja Ampat
Raja Ampat isn't just for diving and snorkeling. You can also engage in other fun activities such as excursions to places where the footprint of Western culture and the advent of mass tourism have not extended.
"The Pass" is a canal separating the islands of Waigeo and Gam. It is well worth a visit to view a wondrous spectacle of tranquil and undisturbed nature. This was the spot that inspired naturalist and explorer Alfred Russell Wallace to describe the area as "one of the most singular and picturesque landscapes" that he had ever seen.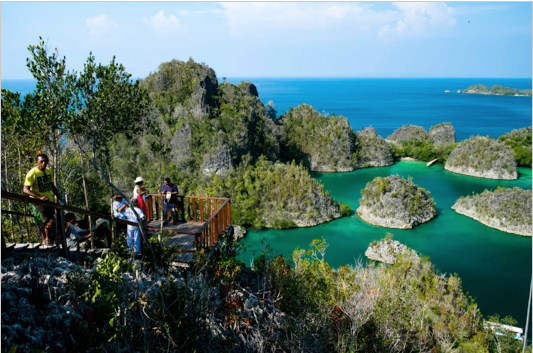 There is no place like this on the planet. The FAM Islands are eroded limestone formations which present you with a unique landscape; sprinkled with numerous little islands situated between spectacular ocean floors covered by crystalline water.
This is a cleaning station for the manta rays. It's here where these curious animals come every year to remove their parasites with the help of the wedge soles or wrasses. Visitors are able to see how the mantas line up for their turn to be cleaned. This is truly a unique spectacle of nature!
Trekking in the Rain Forest
Apart from its beautiful marine landscapes, Raja Ampat offers a fabulous diversity of flora and fauna on land. Many of the species we find on the islands of Raja Ampat are endemic to the region. The Cuscus and the Red Bird of Paradise are two species that shouldn't be missed during your visit.  During your trek, be sure to look up from time to time and enjoy the incredible variety of birds inhabiting the islands.
Kayaks
Other popular sports that visitors may enjoy here are canoeing or sea kayaking. Owing to innumerable island formations which rise up from the tranquil crystal waters extending from the white sand beaches, Raja Ampat offers a myriad variety of routes for exploration and viewing.
Learn about the tribal cultures of Raja Ampat
We wouldn't want you to leave Raja Ampat without experiencing its culture and its people. We recommend that you at least visit the villages of Yenbeser and Friwen. There you can experience the lifestyle and traditions of the natives of this region. Walk around surrounded by curious children, laughing excitedly at the sight of foreigners. You may also experience the hospitality of the inhabitants, who won't hesitate to invite you into their cabins for a cup of tea.
Kick back and relax in Paradise
Last but not least, this Paradise provides an unforgettable opportunity to relax and disconnect from the overdeveloped, workaday world.
Reynaldo Andaluz
Managing Director